Rosie Huntington-Whiteley Net Worth
Product information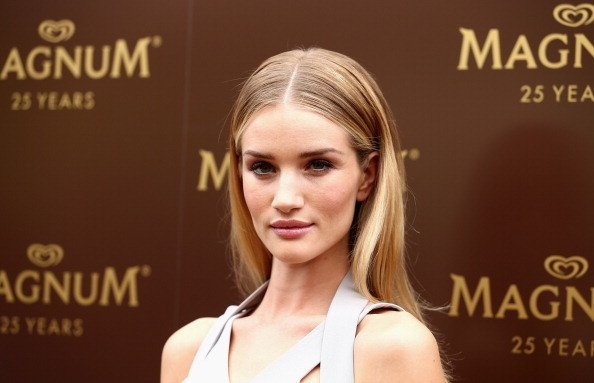 Rosie Huntington-Whiteley
Rosie Huntington-Whiteley net worth: Rosie Huntington-Whiteley is an English model and actress who has a net worth of $30 million. She has been one of the highest-paid models in the world at various points in her career. In 2018 alone, Rosie earned $11 million from her various endeavors. That was enough to make her one of the five highest-paid models on the planet that year. She has appeared on the covers of British Vogue, Elle, GQ, and many others.
Early Life: Born in Plymouth, Devon, England, on April 18, 1987, Rosie Alice Huntington-Whiteley grew up on a farm, and always wanted to get out of her farm community. She grew up near Tavistock, Devon with her brother and sister, the children of Fiona, a fitness instructor, and Charles, a chartered surveyor. She is a member of the noble family, as her paternal great-grandfather, Wing-Commander Eric Huntington-Whitley, was the nephew of George Whitley, 1st Baron Marchamley. She was educated at Tavistock College, she later revealed she was bullied as a child for having a hyphenated name and for her lips.
Modeling Career: Huntington-Whiteley first gained work experience at the London West End-based modeling agency Profile. She was just 15 years old and had not even taken her GCSEs yet. After signing with a modeling agency while in school at age 16, she won her first modeling job at age 16, appearing in a Levi's commercial.
Rosie had her first big break in January 2004 when she traveled to New York City for a shoot with Teen Vogue. She later made her catwalk debut alongside Naomi Campbell in the spring of that year, also in New York City. She was photographed by Bruce Weber for Abercrombie & Fitch.
She began modeling for Victoria's Secret in 2006, making her debut at the Victoria's Secret Fashion Show in Los Angeles, but did not break out as an international model until two years later, when she became the female face of the Burberry line. More high-profile campaigns and magazine covers soon followed, including British Vogue, and campaigns for Godiva, Miss Sixty, VS Online, and Loewe, as well as runway shows for Victoria's Secret, Prada, and Giles Deacon.
Huntington-Whiteley remained low profile outside of the fashion industry until 2008, when she was selected by Christopher Bailey to replace Agyness Deyn for Burberry's autumn/winter campaign alongside actor Sam Riley. Her first British Vogue cover swiftly followed in the November 2008 issue. The next year, she was the face of Karen Millen's spring/summer 2009 ad campaign. That same year, she starred in a short film for Agent Provocateur lingerie, playing a woman whose boyfriend forgets Valentine's Day.
In February 2010, Huntington-Whiteley officially became a Victoria's Secret Angel and took part in the annual Victoria's Secret Fashion Show in New York City. The next year, she announced she would not be walking in the show and that she had left Victoria's secret to persue other opportunities. In 2010, she posed nude for the Pirelli Calendar, photographed by Terry Richardson. She also hit the runway for designers Prada and Giles Deacon. Later that year, her ad campaigns included Monsoon's first underwear line, Thomas Wylde, and Full Circle.
In March 2010, she collaborated with Vogue to share her fashion choices for the "Today I'm Wearing" feature" and appeared on the covers of the May 2010 issues of Harper's Bazaar Russia and British GQ. In September 2010, she was featured on the cover of LOVE Magazine's September issue as a pinup girl.
The famous fashion photographer Rankin devoted an entire book to Huntington-Whiteley called "Ten Times Rosie." Celebrity makeup artist Ruby Hammer has described her as the quintessential English Rose. In March 2011, she landed her first solo British Vogue cover and was unveiled as the face of Burberry's new fragrance, Burberry Body. In 2013, she starred alongside Helena Bonham Carter and David Gandy in the Marks & Spencer Christmas advert and was announced as the face of Australian cosmetics brand ModelCo.
In 2014, she became the ambassador for the brand PAIGE. In February 2017, PAIGE launched their first ever design collaboration with Huntington-Whiteley on a 17 piece capsule collection for Spring. This was also followed by a 20-piece Fall collection. Huntington-Whiteley continues to walk runways and appear in ad campaigns for numerous brands including Michael Kors, Vera Wang, Versace, BCBG, Tommy Hilfiger, Topshop, French Connection, and more.
Acting Career: In 2010, she appeared opposite Shia LaBeouf in the film, "Transformers: Dark of the Moon", replacing Megan Fox. She had previously worked with director Michael Bay on a Victoria's Secret commercial. Her performance, along with LaBeouf's, was not well-received critically. She was nominated for a Golden Raspberry for her performance for "Worst Actor" and she and LeBeouf were both nominated for "Worst Onscreen Couple." Her second acting role was in the film "Mad Max: Fury Road," released in May 2015. She played the pregnant character The Splendid Angharad, one of the five wives of the warlord Immortan Joe.
Personal life: Rosie Huntington-Whiteley has been dating English actor Jason Statham since 2010. They announced their engagement in January 2016. In February 2017, she announced that she was pregnant with the couple's first child. Their son was born in June 2017.
Jason Statham
Huntington-Whiteley used to be a smoker, and she said in an interview with David Letterman: "I got a work placement at a modelling agency and then I spent the week making coffee and picking up the telephone and smoking cigarettes and drinking wine at 11 AM, it was very 'Ab Fab'". She last smoked publicly in 2012 and has since quit the habit.