Mike Huckabee Net Worth
Product information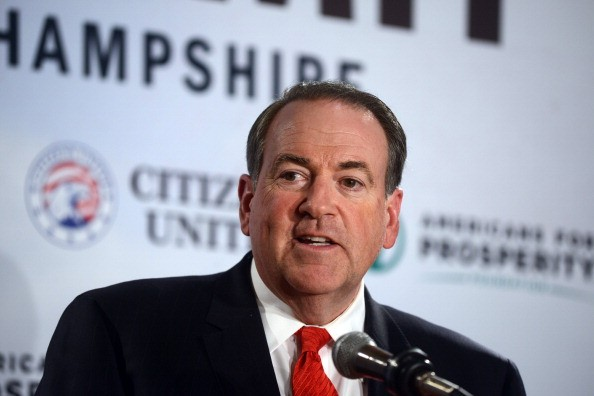 $ 18 Million
Salary : $ 500
Mike Huckabee Net Worth: Mike Huckabee is an American politician, minister, author and television personality who has a net worth of $18 million. Mike Huckabee served as the 44th governor of Arkansas from 1996 to 2007. Later, he was a Republican candidate for the presidential nomination in 2008 and 2016. Huckabee also hosted the Fox News Channel talk show "Huckabee" from 2008 to 2015, and was a political commentator on the radio program "The Huckabee Report."
Mike's daughter Sarah Huckabee Sanders was Donald Trump's Press Secretary for two years.
Sarah Huckabee Sanders
Sarah Huckabee Sanders
Early Life and Career Beginnings: Mike Huckabee was born in 1955 in Hope, Arkansas to working-class parents Mae, a gas company clerk, and Dorsey, a mechanic and fireman. He is of German, English, and Scots-Irish descent, and has one sister, Pat. Huckabee got his first job at the age of 14 reading the news and weather for a local radio station. He attended Hope High School, where he was student council president during the 1972-1973 year. In 1972, Huckabee entered the ministry at Garrett Memorial Baptist Church. Later on, he enrolled at Ouachita Baptist University, graduating in 1978 with a bachelor's degree in religion. Huckabee then went to Southwestern Baptist Theological Seminary in Fort Worth, Texas, but dropped out after one year to take a Christian broadcasting job.
When he was 21, Huckabee became a staffer for notorious televangelist James Robison. From 1980 to 1986, he served as a pastor at Immanuel Baptist Church in Pine Bluff, and from 1986 to 1992, was a pastor at the Beech Street First Baptist Church in Texarkana.
Start of Political Career: Huckabee ran his first political race in 1992 for lieutenant governor of Arkansas; he lost to incumbent Democratic senator Dale Bumpers. In the next general election, however, he won, becoming only the second Republican since Reconstruction to serve as Arkansas lieutenant governor. In 1994, Huckabee was reelected to a full term.
Arkansas Governor: Following the resignation of incumbent governor Jim Guy Tucker due to fraud and conspiracy convictions, Huckabee was sworn in as Arkansas governor in 1996. In 1998, he was elected to a full four-year term, and in 2002, was reelected for a second term by defeating State Treasurer Jimmie Lou Fisher. For his quick response to Hurricane Katrina in 2005, Huckabee received a great deal of praise; Time Magazine even named him one of the top five governors in the country. However, he also earned significant criticism for other issues, including the high number of pardons and commutations he made during his term, as well as the growing state prison size and number of people executed while he was in office. By the end of his term in 2007, Huckabee had the third-longest tenure of any governor of Arkansas.
Presidential Campaigns: On "Meet the Press" in 2007, Huckabee announced his run for the White House. At the Iowa Straw Poll, he took second place with around 18% of the vote. In November of 2007, he garnered endorsements from a plethora of religious activists. Much pushback followed, including criticisms over a past comment he made about turning the US into a Christian theocracy. In January of 2008, Huckabee won the Iowa Republican caucuses with 34% of the electorate. On Super Tuesday, he added victories in Arkansas, Alabama, Tennessee, and Georgia; however, Senator John McCain remained the frontrunner. In March of 2008, when it became clear he would lose Texas, Huckabee withdrew from the race.
In May of 2015, Huckabee announced his intention to seek the Republican nomination for president in the 2016 election. However, after a disappointing showing in the Iowa caucus in 2016, he chose to suspend his campaign.
Political Positions: Huckabee is a staunch religious conservative, opposing progressive measures such as funding for abortion, universal health care, gun control, and LGBTQ and immigrant rights. He denies the science of evolution, and blamed the lack of Christian education for the mass shooting at Sandy Hook Elementary School. Following the 2020 election of President Joe Biden, Huckabee perpetuated the lie that there was fraud in the election.
Media Career: In 2008, Huckabee signed a deal with ABC Radio Networks to do a daily commentary on the radio program "The Huckabee Report," which ran until 2015. Also in 2008, Huckabee began hosting his self-titled weekend show on the Fox News Channel. In 2012, he launched a daily talk show on Cumulus Media Networks, formerly ABC Radio Networks, which featured long-form interviews and discussions; the program ended in 2013.
Beyond broadcasting, Huckabee plays the electric bass guitar for Capitol Offense, a classic-rock cover band. The group has played at many parties and political events.
Personal Life, Health, and Organizations: Huckabee married Janet McCain in 1974; they have three children, including former White House Press Secretary Sarah Huckabee Sanders.
When he was first elected Arkansas governor, Huckabee was obese. He was subsequently diagnosed with type 2 diabetes in 2003, and was told he would need to lose weight if he wanted to live for more than 10 years. Because of this, he started eating healthier and exercising, and ended up losing over 110 pounds. To help him on his journey, Huckbaee completed a number of marathons, including the 2005 Marine Corps Marathon, the Little Rock Marathon in 2005 and 2006, and the 2006 New York City Marathon.
Huckabee has worked with many organizations throughout his career. In 1999, he became the chair of the Southern Governors' Association. He has also chaired such groups as the Southern Regional Education Board, the Interstate Oil and Gas Compact Commission, and the Education Commission of the States.
Real Estate: In 2009 Mike and his wife Janet paid $8.39 million for a home in Santa Rosa Beach, Florida. They listed the home for sale in December 2020, ultimately finding a buyer for $9.3 million. Here's a video tour of their former home:
Upon selling the Florida home, Mike and Janet reportedly paid $1.75 million for a home in Arkansas, where they intend to retire.