Bernie Sanders Net Worth
Product information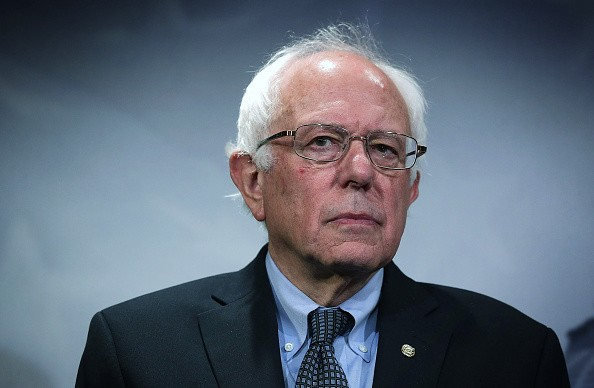 $ 3 Million
Salary : $ 174
What is Bernie Sanders' net worth?
Bernie Sanders is an American politician who has a net worth of $3 million dollars. Sanders has been a United States Senator representing Vermont since 2007. He has also undertaken a number of Presidential campaigns.
Income
According to his 2015 financial disclosure, Bernie and his wife had $750,000 worth of assets at that time and up to that point they typically earned $250-$300,000 per year in total income. Bernie's income started to soar after he published the book "Our Revolution" in 2016. Bernie earned a little over $1 million in 2016 and $1.1 million in 2017. In each of those years, roughly $800,000 of the couple's earnings came from book advances and royalties. He and his wife Jane had a combined adjusted gross income of $561,000 in 2018 after his book earnings dropped to $393,000 for the period.
Between 1981 and 1989 he earned $33,700 per year as the mayor of Burlington, Vermont.
As a US Congressman between 1990 and 2005, Bernie earned between $90,000 and $140,000.
As a US Senator, he earns $174,000 per year in salary, beginning in 2005.
In June 2017 Bernie estimated his net worth to be $2 million after taking into account mortgages and retirement accounts.
As part of his 2020 Presidential campaign, Bernie released tax returns dating back to 2010. Here is how much Bernie and Jane Sanders earned combined:
2009 – $314,742
2010 – $321,592
2011 – $324,870
2012 – $280,954
2013 – $279,724
2014 – $205,617
2015 – $240,610
2016 – $1,062,626
2017 – $1,150,891
2018 – $561,293
Total = $4,742,919
Early Life
Bernard "Bernie" Sanders was born in Brooklyn, New York City on September 8, 1941. His father Elias worked as a paint salesman after he immigrated to the U.S. in 1921 from Austria-Hungary. His mother Dorothy was born in NYC. Growing up in Midwood Brooklyn, Sanders was raised in the Jewish faith. He attended James Madison High School, where he was captain of the track team. He ran for student body presidency but finished last. Bernie lost both of his parents young, with his mother dying just after he graduated high school at the age of 46, and losing his father just a few years later. Sanders went to Brooklyn College before transferring to the University of Chicago and graduating with a bachelor's degree in political science in 1964.
Sanders was heavily involved in political activism during his time in Chicago. He joined the Young People's Socialist League and was active in movements for racial equality. He participated in numerous rallies and sit-ins to protest his university's segregated campus housing policy. In March 1963, he traveled to Washington to see Martin Luther King, Jr. give his legendary "I Have a Dream" speech. Sanders was also actively involved in antiwar and peace movements throughout college.
Early Career
Sanders returned to NYC after he graduated college and held a wide variety of various jobs before moving to Stannard, Vermont in 1968, and continued odd jobs including writing articles for alt publication The Vermont Freeman. In 1972, his political career began when he ran unsuccessfully as the Liberty Union candidate for Vermont governor and as a candidate for U.S. senator in 1972 and 1974. He finished third in 1974. He finally scored political gains by running for Mayor of Burlington, Vermont and winning by just twelve votes. Bernie served as mayor from 1981 to 1989, (re-elected three times) and became known for his self-described Socialist views and outspoken nature.
U.S. House of Representatives
The political underdog seemed an unlikely candidate for national office, but clinched a 1990 seat as an independent in the U.S. House of Representatives. In his early days in the House, he alienated colleagues with his outspoken criticism of both parties. He admonished politicians who were on the side of the wealthy versus the average or poor American and famously voted and advocated for banking reform. Bernie was a vehement opposer of 2001's Patriot Act and the war in Iraq. Rolling Stone called Sanders the "amendment king" in 2005, citing his ability to get more amendments passed than any other congressman since 1995. Sanders served as a representative for sixteen years, from 1991 until he became a senator in 2007.
Senate
On April 21, 2005, Sanders entered the race for the U.S. Senate when Jim Jeffords announced he was not seeking reelection. Sanders had the support and endorsement of both Chuck Schumer and then-senator Barack Obama, as well as the support of Howard Dean and Senate Minority Leader Harry Reid. He defeated Rich Tarrant, who had spent $7 million of his own wealth on his campaign, by a large margin, and went on to be re-elected with 70% of the vote in 2012 and 2018.
As a Senator Bernie has sponsored many important bills that have become law, such as the Veterans' Compensation Cost-of-Living Adjustment Act of 2013. He voted against the Troubled Asset Relief Program, otherwise known as The Wall Street Bailout in 2008 and 2009. In 2010, Sanders famously held an 8-hour filibuster against George Bush's Tax Relief act of 2010, which consisted of major proposed tax cuts for the wealthy. In 2010, he supported the DREAM Act, which aimed to provide a path to citizenship for undocumented minors who immigrated into the U.S.
Notoriously a defender of healthcare for all, he successfully added a provision to the Affordable Care Act to provide $11 billion to rural community health centers in 2009. In response to the House's vote to repeal and replace the ACA in 2017, he co-sponsored the Medicare for All bill, a single-payer health care plan, along with 15 other Senate co-sponsors. Bernie has also been vigilant in introducing and sponsoring bills that support a living wage and a hike in the minimum wage. He is consistently liberal on social issues such as LGBTQ rights, is pro-choice, anti-death penalty, and considers himself a feminist. He has been vocal and open about his opposition and criticism of the Trump administration.
Presidential Campaigns
On April 30, 2015, Bernie announced his intention to seek the Presidential nomination for the Democratic Party for the 2016 election. During his primary race, Sanders relied almost solely on grassroots and small individual donations rather than Super PACs, and unprecedented move that ended up breaking the fundraising record for most contributions at a certain point in his campaign. In February 2016, it was reported that he had received $3.7 million contributions from 1.3 million contributors. By March of that year, the campaign had raised over $96 million. Ultimately, Hilary Clinton won the nomination, and Sanders formally endorsed her on July 12, 2016.
No longer considered an underdog, in February 2019, Sanders announced that he would be running for president again in 2020. The campaign employed the same grassroots funding attempts, along with social media as a key tool in organizing efforts. The campaign recruited over one million volunteers within weeks of his announcement. On February 11, 2020, Sanders claimed victory at the New Hampshire primary.
Personal Life
Sanders was married to college sweetheart Deborah Shiling from 1964 to 1966. He has one biological child, Levi (b.1969) with Susan Mott. In 1988, Sanders married Jean O'Meara Driscoll. He is stepfather to Jean's three children, Dave, Carina, and Heather. He has seven grandchildren. He has written six books, including a published speech of his famous filibuster.
Real Estate
Bernie and Jane Sanders own three homes. In 2009 they bought what is now their primary home, a 4-bedroom property in Chittenden County Vermont, for $405,000. They took out a $324,000 mortgage from Congressional Federal Credit Union for the purchase. According to Zillow their home is 2,300 square-feet with four bedrooms and is currently valued at around $440,000.
In 2007 they bought a townhouse in Washington D.C. for $488,999. Zillow estimates that this home is worth $685,000, though recent similar homes have sold for $800,000 or more.
In 2016 they bought a vacation home on Lake Champlain in Vermont for $575,000. The property had been previously listed for $775,000. It's a two-story log cabin-style home covering 1.1 acres.