Sara Bareilles Net Worth
Product information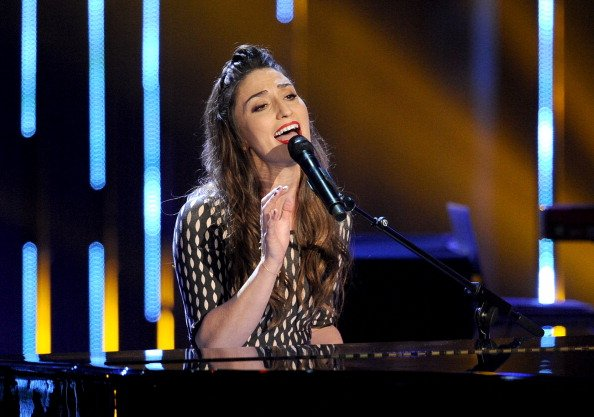 Sara Bareilles net worth: Sara Bareilles is an American singer, pianist and songwriter who has a net worth of $8 million. She has earned multiple Grammy, Tony, and Emmy awards and nominations and has sold millions of albums worldwide.
While at UCLA, Sara joined an all-girls A Cappella group called "Awaken A Cappella". As a solo artist, Sara achieved her first taste of success when she performed in UCLA's annual Spring Sing concert. She was voted best performer on campus two years in a row. After graduating from college, Sara began performing at any venue she could around Los Angeles. She eventually landed a recording contract with Epic Records. She would go on to release her first album "Careful Confessions" in 2004. Her second album, 2007's "Little Voice" went platinum and made Sara a household name.
Early Life: Bareilles was born on December 7, 1979 in Eureka, California. Her father, Paul Bareilles, was an insurance adjuster and her mother, Bonnie Halvorsen, was a funeral home worker. She has two sisters and one half-sister, Stacey, Jennifer, and Melody. Bareilles was raised Catholic and is of English, German, French, Portuguese, and Italian descent. She taught herself how to play the piano as well as all the other instruments that she has played throughout her albums.
Bareilles attended Eureka High School and was involved in the school's choir and musical theater, in addition to participating in community theater. After completing high school in 1999, she enrolled at the University of California, Los Angeles where she studied communication. She joined the university's co-ed a cappella group, Awaken a Cappella, and also won the annual student concert, UCLA Spring Sing, twice.
Career: After completing her studies at UCLA, Bareilles began pursuing music professionally, starting out by performing at bars and clubs and working her way into booking shows at larger venues as she started developing a following. In 2004, she released her first studio album, "Careful Confessions" and was a supporting artist on tours for a number of artists, including Rocco DeLuca and the Burden, Guster, and Jon McLaughlin. She also had a small role as a singer in the indie film "Girl Play."
In 2005, she signed a record contract with Epic Records and started working on her second album. She opened for Marc Broussard on his 2006 tour and also toured with Aqualung, Mika, Maroon 5, Paolo Nutini, and James Blunt in 2007.
In mid-2007, iTunes featured Bareilles's single "Love Song" as their free single of the week and released her second album, "Little Voice," soon after. The album debuted at number 45 on the Billboard 200 chart and the single "Love Song" worked its way up to the number 4 spot on the Billboard Hot 100 chart. She began her own tour for the album in 2008.
In October of 2008, she released a live DVD and CD package, "Between the Lines: Sara Bareilles Lie at the Fillmore," which featured a recording of her performance at The Fillmore venue in San Francisco. She began a second headlining tour, the Gravity Tour, in the spring of 2009 in order to promote her single, "Gravity." She then released a free live acoustic EP that featured recordings from the Gravity Tour.
In the summer of 2009, Bareilles began working on her third album. After experiencing a period of writer's block, she began collaborating with other artists, like Pharrell Williams and Questlove. "Kaleidoscope Heart" was released in September of 2010 and debuted at number 1 in the United Sates. She began touring again in the U.S. at the end of 2010 and then toured in Europe, Australia, and Asia with Maroon 5 in the spring of 2011. She also was added to the third season of the NBC series, "The Sing-Off" as a celebrity judge.
Bareilles collaborated with a number of other artists in 2012. She recorded a new EP with Ben Folds, who also produced it. She also worked with singer songwriters Greg Laswell and Jon McLaughlin, as well as the a cappella group Straight No Chaser. She announced that she was working on a new album, "The Blessed Unrest, in February and announced an 18-city tour to promote the new album in March. She album was released in July.
In 2013, it was announced that Bareilles was going to score "Waitress," a musical adaptation of the 2007 film of the same title. The show debuted in August of 2015 and had a successful run before closing in January of 2020. During its run, Bareilles had also worked on a number of other related-projects, releasing her fifth studio album, "What's Inside: Song from Waitress" in April of 2015 and playing one of the roles from "Waitress" for multiple weeks in 2017, 2018, and 2019. In 2015, she also released her memoir, "Sounds Like Me: My Life (So Far) in Song," which become a bestseller on The New York Times.
She received a Primetime Emmy Award nomination for her role of "Mary Magdalene" in NBC's adaptation of "Jesus Christ Superstar Live in Concert" in 2018. She also released her sixth album in 2019, "Amidst the Chaos," which debuted at number 6 on the Billboard 200. She won the Grammy Award for Best American Roots Performance for the song "Saint Honesty," which appears on her sixth album, in 2020.
In August of 2020, it was announced that Bareilles would star in a new musical comedy series, Girls5eva, opposite of Busy Philipps, Paula Pell, and Renee Else Goldsberry. The series was released on the streaming service, Peacock, in May of 2021.
During her career, Bareilles has earned eight Grammy Award nominations, winning one, as well as three Emmy Award nominations, and two Tony Award nominations. She also won the Music Pioneer Award at the Pioneer Awards in 2017. She made VH1's 2012 list of the Top 100 Greatest Women in Music.
Personal Life: Bareilles dated a member of her band, guitarist Javier Dunn, until 2013. She met actor Joe Tippett during auditions for "Waitress" in Massachusetts and the two later began dating. They publicly appeared together for the first time at the 2017 Tony Awards.