Amy Winehouse Net Worth
Product information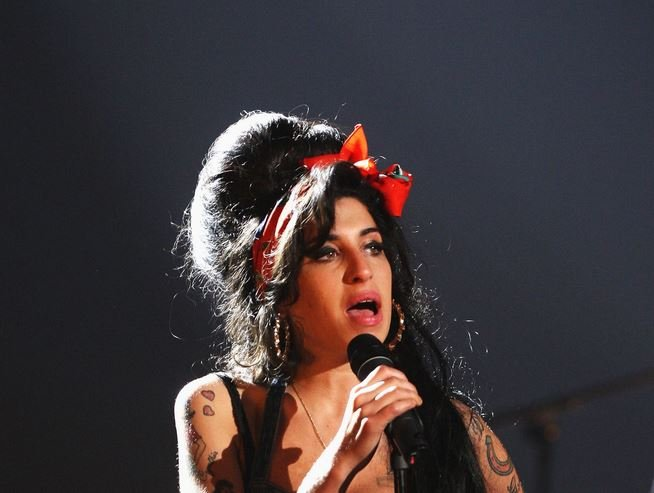 What was Amy Winehouse's net worth?
Amy Winehouse was a talented British singer who had a net worth of $4 million at the time of her death in 2011. Amy Winehouse was known for her deep vocals and musical mix of soul, jazz, and R&B. She released the albums "Frank" and "Back to Black," the latter of which became one of the best-selling albums in UK history, spawning a number of hit singles including "Rehab."
Beset by drug and alcohol addiction, Winehouse passed away from alcohol poisoning in 2011 at the age of 27. Amy died without a will, also known as "intestate". Her father Mitchell was eventually named administrator of the estate which was estimated to be worth around $4 million in 2011. All of Amy's assets and rights went to her parents. In the decade after her passing, Amy's estate has generated at least $10 million in royalties and memorabilia auctions. One auction alone in November 2021, generated around $4 million selling some of Amy's personal items.
Early Life and Career Beginnings
Amy Winehouse was born in 1983 in London, England to Mitchell, a taxi driver and panel installer, and Janis, a pharmacist. She was of Russian Jewish and Polish Jewish descent, and had an older brother, Alex. As a child, Winehouse went to Osidge Primary School in London's Southgate area, and also attended a Jewish Sunday school. When she was nine, her parents separated; as a result, she lived with her mother and stayed with her father on the weekends. In 1992, at the encouragement of her grandmother, Winehouse began honing her vocal and dance skills at the Susi Earnshaw Theatre School, which she attended for four years. Subsequently, she sought full-time training at the Sylvia Young Theatre School.
At the age of 14, Winehouse purchased her own guitar, and shortly after started to write her own music. A little later, she began working as an entertainment journalist for the World Entertainment News Network, and also sang with a local group called the Bolsha Band. In 2000, Winehouse became the featured female vocalist with the National Youth Jazz Orchestra, and in 2002, signed with Simon Fuller's 19 Management.
"Frank" and Early Recording Success
After signing with EMI, and then with Island Records, Winehouse released her debut album, "Frank," in 2003. Receiving much acclaim, it entered the UK album chart in 2004, and was nominated for two Brit Awards. It subsequently went on to reach platinum sales; meanwhile, Winehouse and producer Salaam Remi won the Ivor Novello Award for Best Contemporary Song for the single "Stronger Than Me." Other singles from the album included "Take the Box," "Pumps/Help Yourself," and "In My Bed/You Sent Me Flying."
"Back to Black" and Superstardom
Produced by Salaam Remi and Mark Ronson, Winehouse's second album, "Back to Black," was completed in five months. It was released in the UK in October of 2006, and hit number one on the country's albums chart for two weeks in January of 2007. Meanwhile, in the US, it hit number seven on the Billboard 200. By the end of 2007, "Back to Black" was the best-selling album in the UK, moving 1.85 million copies. Its lead single, "Rehab," was its greatest hit, reaching the top ten in both the UK and US; Time Magazine would ultimately name it the "Best Song of 2007." The album's second single, "You Know I'm Good," peaked at number 18 on the UK singles chart, while the title track, "Back to Black," hit number 25. Other singles included "Tears Dry on Their Own" and "Love is a Losing Game."
In late 2006, Winehouse promoted "Back to Black" with numerous headline performances, and in 2007, she performed at festivals including Glastonbury and Lollapalooza. Later, in February of 2008, Winehouse won five Grammy Awards for her work; they were in the categories of Record of the Year, Song of the Year, Best New Artist, Best Female Pop Vocal Performance, and Best Pop Vocal Album. These wins landed Winehouse in the Guinness Book of Records as the British female act with the most Grammy Awards. Following the Grammy ceremony, "Back to Black" skyrocketed to number two on the Billboard 200. More success came at the 2008 Ivor Novello Awards, where Winehouse became the first artist ever to earn two nominations for the top award; she ended up winning for "Love is a Losing Game."
Final Projects
In 2010, along with Mark Ronson, Winehouse contributed to a cover of Lesley Gore's "It's My Party," which appeared on the album "Q Soul Bossa." Also that year, she performed a four-song set to promote her fashion line, and played a 40-minute concert at the Moscow party of a Russian oligarch. The next year, Winehouse played five dates in Brazil, and began a twelve-leg European tour in Belgrade, Serbia. However, audiences and the media decried her performances, in which she was booed off the stage for being too intoxicated to sing. Winehouse's final public appearance occurred at Camden's Roundhouse in July of 2011, while her final recording was with Tony Bennett on his album "Duets II."
Relationships
While on a break from her on-again-off-again boyfriend Blake Fielder-Civil in 2006, Winehouse had a relationship with chef and musician Alex Clare. In 2007, Winehouse married Fielder-Civil; their marriage was fraught with violence, drug abuse, and self-harm. In 2008, Fielder-Civil was imprisoned on charges of perverting the court of justice and grievous bodily harm with intent. The couple divorced in 2009. Winehouse was also in relationships with actor Josh Bowman, and with writer and director Reg Traviss, whom she was with from 2010 until her passing.
Death and Legacy
Winehouse received enormous media attention for her public battles with substance abuse. She was known for her heavy drinking and drug use, and experienced extreme weight loss. In 2007, after cancelling numerous shows due to ill health, she was hospitalized for a reported overdose of cocaine, heroin, ecstasy, alcohol, and ketamine. Winehouse also admitted to issues with depression and self-harm, and entered rehab in 2008.
On July 23, 2011, Winehouse's bodyguard found her lying unresponsive on her bed in her Camden, London home. After two ambulances arrived, she was declared dead at the scene; a coroner's inquest found that she had lost her life to accidental alcohol poisoning.
Many tributes followed after Winehouse's passing. Her legacy, meanwhile, has continued to shape the music industry, with artists such as Adele, Bruno Mars, Estelle, Florence Welch, and Sam Smith citing Winehouse as an influence. Shortly after her death, the Amy Winehouse Foundation was set up to help young people and provide support to charitable organizations. In 2015, a documentary about Winehouse's life, "Amy," was released to critical acclaim; it went on to win Oscar, Grammy, and BAFTA awards, among other honors.