Billy Idol Net Worth
Product information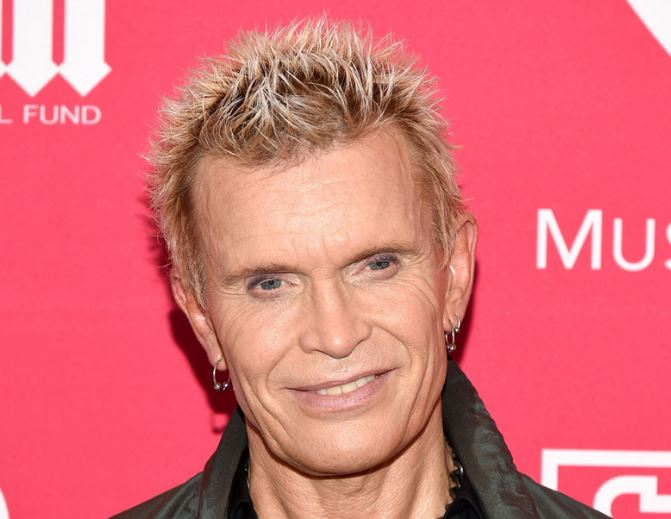 Billy Idol Net Worth: Billy Idol is an English rock musician, singer-songwriter, and actor who has a net worth of $60 million. Idol rose to prominence in the 1980s, getting his first taste of fame with the punk rock band Generation X, and then as a solo artist. Considered part of the MTV-defined "Second British Invasion," Billy is best known for the songs "Eyes Without a Face," "Rebel Yell," "White Wedding," "Dancing with Myself," "Cradle of Love," and his cover of the Tommy James & the Shondells song "Mony Mony." The music videos for these songs made him one of the first MTV stars and defined him as a member of the glam rock contingent made popular by music videos in the 1980s. Idol has released eight solo studio albums, including the 2x Platinum "Rebel Yell" (1983) and the Christmas album "Happy Holidays" (2006). Billy has also appeared in several movies, such as "The Doors" (2001) and "The Wedding Singer" (1998), and his 2014 memoir, "Dancing with Myself," was a "New York Times" bestseller.
Early Life: Billy Idol was born William Michael Albert Broad on November 30, 1955, in Stanmore, London, England. His parents, Joan and Bill, moved the family to Patchogue, New York, when Billy was 2 years old. The family also spent some time living in Rockville Centre, New York, and Idol's younger sister, Jane, was born during the four-year period the Broads lived in America. The family left New York and moved back to England, settling in Dorking, Surrey, then relocated to Bromley (southeastern London). Billy attended Ravensbourne School for Boys, and after the family moved to Goring-by-Sea in West Sussex, he studied at Worthing High School for Boys. In 1975, Idol enrolled at the University of Sussex to study English, but he dropped out after a year and joined the Bromley Contingent, a group of Sex Pistols fans. Around this time, he began going by the name Billy Idol, inspired by a teacher once writing "Billy is Idle" on his report card, and he reportedly changed the spelling from "Idle" to "Idol" to avoid being confused with Monty Python's Eric Idle.
Career: In 1976, Billy began playing guitar for the retro-rock band Chelsea, and a few weeks later, he quit the band and formed a new one, Generation X, with Chelsea bass guitarist Tony James. Idol was the frontman of Generation X, and the band went on to appear on "Top of the Pops" and release three albums with Chrysalis Records, "Generation X" (1978), "Valley of the Dolls" (1979), and "Kiss Me Deadly" (1981). In 1981, Billy moved to New York City and began working with Bill Aucoin, the former manager of Kiss, as a solo artist. He released the EP "Don't Stop" in 1981, with the help of guitarist Steve Stevens, bassist Phil Feit, and drummer Gregg Gerson, and it included the tracks "Dancing with Myself" and "Mony Mony." Idol's debut solo album, "Billy Idol," was released on July 16, 1982, and was certified Gold in the U.S. and Platinum in Canada; the single "White Wedding" reached #4 on the "Billboard" Top Tracks chart. Billy's follow-up, 1983's "Rebel Yell," went 2× Platinum in the U.S. and 5x Platinum in Canada and peaked at #6 on the "Billboard" 200 chart. The single "Eyes Without a Face" cracked the top 10 on the charts in the U.S., Germany, and New Zealand.
Idol's third solo studio album, "Whiplash Smile," was released in 1986, and it went Platinum in the U.S., 3x Platinum in Canada, and Gold in the U.K. and Finland. He followed "Whiplash Smile" with the 1987 remix album "Vital Idol," and his live version of "Mony Mony" topped the "Billboard" Hot 100 chart. Billy moved to Los Angeles in the late '80s, and he was director James Cameron's top choice to play the role of T-1000 in "Terminator 2: Judgment Day," but the role had to be recast after Idol was in a serious motorcycle accident in 1990. Later that year, he released the album "Charmed Life," which included the hit "Cradle of Love" and a cover of The Doors' "L.A. Woman." In 1993, Billy released the experimental album "Cyberpunk" and took part in a Generation X reunion show. In 1998, he appeared as himself in the Adam Sandler-Drew Barrymore film "The Wedding Singer," and "White Wedding" was featured on the soundtrack. In 2000, he voiced an alien named Odin in the animated film "Heavy Metal 2000, and the following year, he appeared on "Billy Idol – Behind the Music" and "VH1 Storytellers."
In 2005, Idol released the album "Devil's Playground," his first studio album in more than a decade, and performed on a few dates of the Vans Warped Tour. In 2006, he released "Happy Holidays," which included covers of Christmas classics such as "Frosty the Snowman" and "Jingle Bell Rock" as well as the original songs "Christmas Love" and "Happy Holiday." In 2008, "Rebel Yell" was included in the "Guitar Hero World Tour" video game as a playable track, and "Rock Band 2" featured "White Wedding" (and later added "Rebel Yell" and "Mony Mony"). Billy performed a concert for the U.S. TV series "Soundstage" in 2009, and it was released as the DVD "In Super Overdrive Live." His eighth solo studio album, "Kings & Queens of the Underground," was released in 2014, and in 2018, Idol and former Generation X bandmate Tony James performed with former Sex Pistols Steve Jones and Paul Cook at the Roxy in Hollywood. In 2020, Billy appeared in a public service campaign, "Billy Never Idles," to raise awareness about the pollution caused by the unnecessary idling of vehicle engines; the campaign features Idol saying lines such as "If you're not driving, shut your damn engine off!" and "Don't clog our lungs with your car fuels." Also in 2020, he performed on the track "Night Crawling" on the Miley Cyrus album "Plastic Hearts."
Personal Life: Billy began a relationship with singer and dancer Perri Lister in 1980, and they had son Willem Wolf Broad (born June 15, 1988) before splitting up in 1989. Idol welcomed a daughter, Bonnie Blue Broad, on August 21, 1989, with Linda Mathis, and Bonnie made him a grandfather when her daughter, Poppy Rebel, was born in 2020. Willem followed in his father's footsteps and became a musician, and he has been a member of the bands FIM and Juggs.
Billy became an American citizen in 2018, and he holds dual citizenship between England and the U.S.
In 1990, Idol was hit by a truck while riding his motorcycle, resulting in internal injuries, several broken bones, and compound fractures in his leg, and four years later, he nearly died of a drug overdose. Billy decided to give up drugs after the incident and has said "Eventually there was a bit of a wake-up call. I had young children and eventually you think about, do they want a dad who's a bit messed up? And they don't want that."
Awards and Nominations: Idol earned Grammy nominations for Best Male Rock Vocal Performance for "Rebel Yell" in 1985, "To Be a Lover" in 1987, and "Cradle of Love" in 1991. He won an ASCAP Film and Television Music Award for Most Performed Songs from Motion Pictures for "Cradle of Love" in 1991, and he has been nominated for 10 MTV Video Music Awards, winning Best Video from a Film for "Cradle of Love," which featured clips from "The Adventures of Ford Fairlane." "Cradle of Love" also earned Billy a Brit Award nomination for Best British Video.