Faye Resnick Net Worth
Product information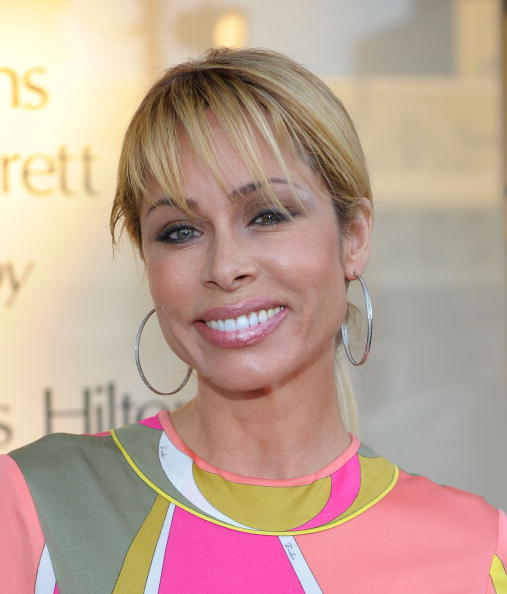 What is Faye Resnick's net worth?
Faye Resnick is an American reality TV star, interior designer and model who has a net worth of $4 million. Faye Resnick first rose to prominence during the murder trial of OJ Simpson. Resnick was friends with OJ's ex-wife Nicole Brown Simpson and therefore was called to testify during the trial of the century.
OJ Simpson
Nicole Brown Simpson
One of the unexpected side effects of the OJ Simpson trial was to bestow a very strange kind of celebrity to figures like Resnick. Resnick used her fame to write a book about the trial and even posed nude in Playboy magazine.
In recent years Resnick has found fame thanks to a recurring role on the reality TV series "The Real Housewives of Beverly Hills."
Early Life
She was born Faye Denise Hutchison on July 3, 1957. By coincidence she was born in a northern California town called Brentwood, which is not to be confused with the neighborhood in Los Angeles that would become famous thanks largely to O.J. Simpson in the 1990s.
Faye's father, who abandoned the family when she was young, was African American. Faye has claimed her mother was of Italian-Spanish or Colombian descent. Childhood friends of Faye claim that her mother was Puerto Rican.
Career
Her mother eventually remarried but unfortunately Faye would later claim that her stepfather was physically abusive. By the 1970s Faye's mother had become a fanatic Jehovah's Witness who was convinced that the world was going to end in 1975. At the time Faye was 18 and believed her mother's prediction may be true so she rushed out and lost her virginity. When she realized her mother had become unreasonable, Faye moved in with an aunt in the Bay Area town of Hayward. In Hayward she began doing some local modeling and was even crowned "1975 Maid of Hayward" which landed her photo in the newspaper.
Faye's modeling career sputtered so she momentarily enrolled in community college where she took legal classes to potentially pursue a career as a lawyer. She soon dropped out and went to work for the John Robert Powers modeling agency. She also worked as a manicurist in a beauty salon.
Relationships
For one year, from 1978 to 1979, Faye was married to a man named Rick Barnett.
In 1984 she married an eccentric millionaire named Fadi Halabi while living in London and working as a model. They had a daughter named Francesca. Faye and Fadi divorced in 1986.
1990s
In 1987 Faye married an LA-based entrepreneur named Paul Resnick. Resnick earned his fortune in the hotel refurbishment industry.
In the early 1990s Paul and Faye paid $1.3 million for a home in Beverly Hills that had previously been owned by Disney CEO Michael Eisner. Her daughter Francesca enrolled in the local Beverly Hills elementary school and Faye served on the P.T.A.
Unfortunately the early 1990s are also the time when Faye reportedly became addicted to drugs, specifically cocaine. It would later be revealed that between 1988 and 1994 Faye had to check-in to multiple drug rehab programs.
Nicole Brown Simpson
Faye first met Nicole Brown Simpson in 1990, though they didn't become close until some time in 1992 or 1993. Defense attorney Robert Kardashian would later reveal that Nicole and Faye had really only known each other for about a year and a half prior to Nicole's murder. Nicole, whose divorce from Simpson was finalized in 1992, found an eager and excited party pal in Faye Resnick. They went on vacation together in Mexico and generally bounced around Brentwood and Hollywood nightclubs and restaurants.
During this time Nicole called Paul Resnick to express concern that Faye's cocaine usage was "getting out of control." On June 9, 1994 Nicole staged an intervention for Faye at her condo in Brentwood. Later that day Faye checked into the Exodus Recovery Center in Malibu. Nicole and Ron Goldman were murdered three days later.
Books
In the wake of the murder and subsequent trial Faye became infamous. Simpson's defense team floated the implausible theory that Nicole had been murdered by Colombian drug dealers who were actually looking for Faye after she failed to repay a debt she took out to open a Starbucks coffee shop.
Faye released the very first book concerning Nicole and OJ. Her book "Nicole Brown Simpson: The Private Diary of a Life Interrupted" was rushed to print and released during the trial. The book was such a bombshell that judge Lance Ito was forced to recess the case so both sides could read its contents to determine if it could negatively impact the trial or influence the jury. Resnick received a six-figure advance for the book which went on to sell 750,000 copies in its first run, and several million in total.
Faye's book contained a number of bombshells including:
Real Housewives of Beverly Hills
Fans of The Real Housewives of Beverly Hills know her as a recurring component of some of the show's most memorable scenes. She has even been referred to by a member of the cast as "the morally corrupt Faye Resnick." It's up to future historians to determine whether or not Faye Resnick is "morally corrupt," but it's not likely that fans of the bizarre will stop following her antics any time soon.
Today Resnick owns her own interior design firm which has worked with celebrities like Nick Lachey, Paris Hilton and Kevin Connolly.
See also: Net Worths of all The Real Housewives of Beverly Hills
Net Worths of all The Real Housewives of Beverly Hills