Seth Meyers Net Worth
Product information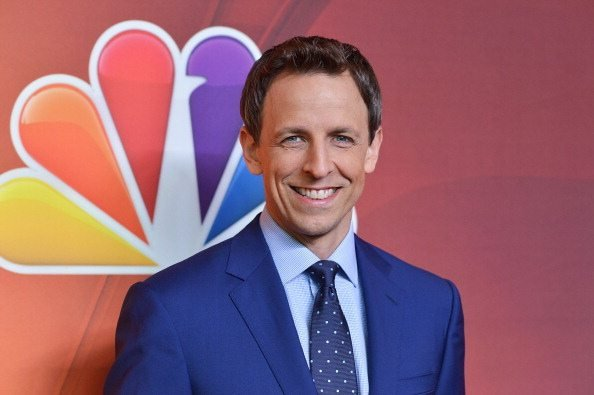 $ 26 Million
Salary : $ 5 Million
What is Seth Meyers's net worth and salary?
Seth Meyers is an American comedian, actor, and television host who has a net worth of $26 million dollars. He is well-known as a former cast member of "Saturday Night Live" as well as host of "Late Night with Seth Meyers."
Salary
Seth Meyers earns $5 million per year hosting "Late Night."
Early Life
Meyers was born on December 28, 1973 in Evanston, Illinois, though his family then moved to Okemos, Michigan and then to Bedford, New Hampshire. His father, Laurence Meyers Jr., worked in finance while is mother, Hilary Claire, was a French teacher. He also had one younger brother, Josh Meyers, who also went on to become an actor. In terms of ancestry, Meyers has family roots in Lithuania, Austria, Croatia, England, Germany, Sweden, and Czech Republic.
While the family lived in Michigan, Meyers attended Edgewood Elementary in Okemos and then enrolled in Manchester High School West in New Hampshire. After high school, he began college at Northwestern University in Illinois, just outside of Chicago. While there, he joined Phi Gamma Delta and the Mee-Ow Show, the school's improv comedy group. He then continued developing his early comedy career by joining ImprovOlympic and then Boom Chicago, a troupe based in Amsterdam. It was there that Meyers was noticed by scouts from "Saturday Night Live" (SNL) and invited to audition.
Comedy Career
After a successful audition, Meyers joined the SNL cast in 2001, where he became a popular cast member. He took on a more involved writing role on SNL in 2005 when he became the writing supervisor and then again in 2006 when he became the co-head writer along with Tina Fey and Andrew Steele. Once Tina Fey left the show, Meyers became the head writer and also took over Fey's role on the popular "Weekend Update" segment, alongside Amy Poehler. The segment received high praise and Meyers and Poehler would occasionally revive it even after Poehler left SNL during her returning guest appearances.
In addition to "Weekend Update," Meyers played a number of popular recurring characters on SNL sketches including "Appalachian Emergency Room" and "Jarrett's Room." Additionally, his role in writing or performing in several iconic SNL sketches earned him praise from the critics, including Tina Fey's role impersonating vice presidential candidate Sarah Palin and Louis C.K.'s role in the "Abe Lincoln" sketch.
In 2007, Meyers joined the writer's strike organized by the Writers Guild of America. The strike sought increased funding and payment considering the profits that many television networks were making. Meyer's participation in the strike meant that he missed out on much of the 2007-2008 SNL season.
Meyers final SNL episode aired in February of 2014. A number of popular SNL alumni returned for the special episode, including Amy Poehler, Fred Armisen, and Andy Sandberg. They all joined Meyers during his final edition of "Weekend Update." Since leaving the show, Meyers has returned once as guest house in 2018.
In addition to his role on SNL, Meyers has also appeared in a number of films and televisions, primarily comedic ones.
Late Night Career
In 2013, NBC announced that Meyers was going to take over the "Late Night" show that had been previously hosted by Jimmy Fallon, who had been moved to host "The Tonight Show." Meyers officially began hosting the show in February of 2014 with Amy Poehler as his first guest. Meyers continued involving friends from his SNL days by making Fred Armisen, who is also a musician, the bandleader for Late Night's house band, "The 8G Band. His original contract with NBC specified that Meyers would remain the host of the show through 2021, though the network and Meyers decided to resign the contract in 2021 to extend his hosting duties until 2025 at least.
In March of 2020, given the COVID-19 pandemic, "Late Night with Seth Meyers" had to suspend it's operations, given the pandemic-related restrictions. However Meyers, along with a number of other late night talk show hosts, simply moved the filming to his house so that the show could continue to air. His children appeared on the show a number of times during this period, though in September of 2020, Meyers was able to resume filming in the studio.
Generally, "Late Night with Seth Meyers" has received positive praise and retains consistent viewership. When it first premiered in 2013, the show earned the best ratings for the franchise since 2005, with over 3.4 million viewers tuning in. While it initially received mixed reviews from critics, some of whom felt that Meyers was merely replicating his style from his "Weekend Update" segment on SNL, the show received more steady positive praise as it continued to develop its own style and voice. Unlike other late night talk shows, Meyers is more straight-forward about his left-leaning political views rather than attempting a more neutral comedy style and often focuses heavily on politics. Many critics have praised this choice, saying that it helps the show stand out from its competitors.
Personal Life
Meyers is married to Alexi Ashe, an attorney. The two dated for five years before marrying in July of 2013 on Martha's Vineyard. The couple has had two children together, sons Ashe and Axel. Though Meyers himself is not Jewish, his wife is and the couple has decided to raise their sons in a Jewish household.
Meyers has an interest in sports, primarily following Boston and Pittsburgh franchises. He is a fan of the Boston Red Socks, Boston Celtics, Pittsburgh Steelers, and Pittsburgh Penguins, among others. In terms of his comedy influences, he cites Steve Martin, Mel Brooks, David Letterman, Monty Python, and Jon Stewart.
Real Estate
In 2013, Seth and Alexi paid $3.525 million for an apartment in NYC's West Village neighborhood. They listed the unit in late 2017 and a month later sold it for $4.5 million, the full asking price.
In 2016, they paid $7.5 million for a 10-room duplex near Washington Square Park. They spent a year renovating the duplex, staying at their West Village apartment in the meantime.