Steve Carell Net Worth
Product information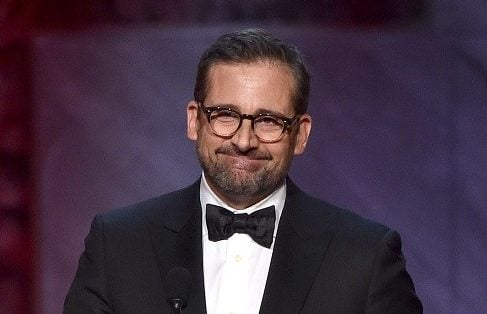 Steve Carell Net Worth: Steve Carell is an American actor, comedian, producer, writer, and director who has a net worth of $80 million. He is perhaps best known for his portrayal of the character Michael Scott on the long-running NBC sitcom "The Office" (2005-2013). He made $300,000 per episode of "The Office."
Early Life and Career Beginnings: Steven John Carell was born in Concord, Massachusetts, on August 16, 1962. His father, Edwin Carell, was an electrical engineer, and his mother, Harriet Theresa, was a psychiatric nurse. Carell was the youngest of four brothers and was raised in Acton, Massachusetts. The family would perform together, with Carell playing the fife. He later joined a reenactment group that portrayed the 10th (North Lincoln) Regiment of Foot.
He attended high school at Middlesex School, where he played ice hockey and lacrosse. He continued his education at Denison University in Granville, Ohio, graduating with a history degree in 1984. While at Denison, Carell joined the student improvisational comedy troupe Burpee's Seedy Theatrical Company and worked as a DJ at the campus radio station WDUB under the name "Sapphire Steve Carell."
Early in his performing career, Carell was part of a touring children's theater company. He also performed in the comedy musical "Knat Scatt Private Eye," and appeared in a 1989 commercial for restaurant chain Brown's Chicken.
Television and Film Career: Carell joined the Chicago comedy troupe The Second City in 1991 and made his film debut that same year with a minor role in the comedy-drama "Curly Sue." In 1996, he was a cast member on the ABC sketch comedy program "The Dana Carvey Show." Although the show only aired seven episodes, it did spawn the animated short segment "The Ambiguously Gay Duo," for which Carell voiced the character of Gary. After "The Dana Carvey Show" ended, the segment lived on and continued on "Saturday Night Live" later that year. "The Dana Carvey Show" has often been credited as the moment that helped jumpstart Carell's career.
Other projects Carell worked on during the late 1990s and early 2000s include starring roles in several short-lived television series, including "Over the Top" (1997), "Watching Ellie" (2002-2003), and "Come to Papa" (2004). He was a correspondent for late-night talk and news satire program "The Daily Show" from 1999 to 2005, where he featured in several regular segments like "Even Stevphen" with Stephen Colbert, and "Produce Pete." He also enjoyed his first major film role during this period, starring alongside Will Ferrell in the hit comedy "Anchorman: The Legend of Ron Burgundy" (2004).
In 2005, Carell signed on with NBC to star in the American remake of the British series "The Office." The series is a mockumentary that documents life at Dunder Mifflin, a mid-sized paper supply company. Carell played the character Michael Scott, the company's regional manager. This role truly propelled Carell into the spotlight, as the series proved to be wildly popular despite average ratings from the first season. The show was actually renewed for a second season despite the first season's disappointing performance because producers thought that Carell's upcoming film "The 40-Year-Old Virgin" (2005) would give the show (and Carell's popularity) a boost. This decision turned out to be a good call. For his work on "The Office," Carell won a Golden Globe Award and Television Critics Association Award in 2006. Between 2006 and 2011, he was also nominated six times for Primetime Emmy Awards.
In the meantime, while filming "The Office," Carell also worked on other projects between filming periods. Such projects include the films "Evan Almighty" (2007), "Dan in Real Life" (2007), "Get Smart" (2008) and "Date Night" (2010). He also lent his voice to the animated family film "Despicable Me" (2010), voicing the character of Gru. He reprised this role for the sequels "Despicable Me 2" (2013) and "Despicable Me 3" (2017). Ultimately, Carell decided to leave "The Office" in 2011 to focus on his film career, although he returned for the series finale in 2013.
Projects Carell worked on after leaving "The Office" include the true-crime drama film "Foxcatcher" (2014) along with Mark Ruffalo and Channing Tatum. For his portrayal of millionaire and convicted murderer John Eleuthère du Pont, Carell was nominated for the Golden Globe for Best Actor and the Academy Award for Best Actor. His role in the 2015 "The Big Short" earned him another Golden Globe nomination for Best Actor. His other 2015 film was "Freeheld," which co-starred Julianne Moore, Ellen Page, and Michael Shannon. Other films he has worked on include "Café Society" (2016), "Battle of the Sexes" (2017), "Beautiful Boy" (2018), "Vice" (2018), and "Welcome to Marwen" (2018). He returned to television in the Apple TV+ drama series "The Morning Show," with the first season premiering in the fall of 2019. Additionally, he has his own company, Carousel Productions.
Salary Milestones: In the early seasons, Steve earned $175,000 per episode of "The Office." At his peak, Steve earned a salary per episode of $300,000. As a producer, writer, and director, he earned additional fees during production and continues to make money from syndication deals.
He earned $500,000 for his star-making turn in "The 40-Year-Old Virgin." He earned $5 million for "Evan Almighty," $12.5 million for "Date Night," $12 million for "Dinner for Schmucks," and $15 million for "Crazy Stupid Love."
After earning just $500,000 for the first installment, today he earns at least $15 – $20 million for his appearances in the "Despicable Me" sequels.
Personal Life: Carell met Nancy Walls when she was a student in an improvisation class he taught at Second City in Chicago. They married on August 5, 1995, and have two children together. Walls is a former cast member of "Saturday Night Live," and she and Carell have worked together on multiple occasions, including as fellow correspondents on "The Daily Show." She has also made brief appearances on Carell's various films and shows, such as "The Office" and "The 40-Year-Old Virgin." Lastly, the couple worked together to create the TBS comedy series "Angie Tribeca" (2016-2019).
Real Estate: In 2010, Nancy and Steve paid $6 million for a home in LA's Toluca Lake suburb. They bought the home from the estate of the late actor Jonathan Winters. They proceeded to tear down the existing home and built a 6,600 square-foot mansion. In 2012 they sold their former Toluca Lake home for $5.1 million.
Back in their native Massachusetts, Nancy and Steve own a four-bedroom home in the town of Marshfield. They also own and sometimes personally operate the Marshfield Hills General Store. The store is primarily managed by Nancy's sister.