Sidney Poitier Net Worth
Product information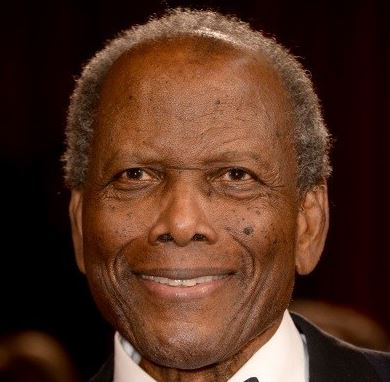 Sidney Poitier Net Worth: Sidney Poitier is an American-born Bahamian actor, film director, author, and diplomat who has a net worth of $20 million. Poitier is one of the last surviving stars of the so-called "Golden Age of Hollywood," and he is considered showbiz royalty. He was widely praised after winning the Academy Award for Best Actor in 1964, becoming the first black man to achieve this feat. He was also the first Bahamian national to win the award.
After beginning his career in New York's theatre world, Sidney eventually rose in prominence and started booking film roles. By 1958, he has appeared alongside Tony Curtis in "The Defiant Ones," the film that earned him his first Academy Award nomination. In 1964, he was nominated for an Academy Award once again for his role in "Lilies of the Field." This time he won. He continued to star in numerous film roles throughout the next few decades. As time went on, Sidney began to direct comedy films such as "Stir Crazy."
Poitier has won countless awards over the course of his career, including Grammys, Screen Actors Guild Awards, BAFTAs, the Kennedy Center Honor, and the Presidential Medal of Freedom. He was also knighted by the Queen of England in 1974. Outside of his activities in the entertainment world, Poitier is known for being the former Bahamian ambassador to Japan.
Early Life: Sidney L. Poitier was born on February 20th of 1927 in Miami, Florida. Raised in a Roman Catholic household alongside six elder siblings, Poitier's family had strong Bahamian roots. His parents were both former farmers who traveled regularly to Miami to sell produce. It was during one of these visits that Sidney was born unexpectedly on American soil. Although he spent the first three months of his life in Miami, he later relocated to the Bahamas where he spent most of his childhood. Due to the fact that he was born in the United States, he was granted citizenship.
At the age of 10, Sidney moved with his parents to Nassau. By 15, he was living in Miami with his brother's large family. One year later, Poitier packed his bags once again and moved to New York City. While working as a dishwasher, he learned how to read. However, his life took a turn once more when World War II broke out. After lying about his age, he enlisted in the army. Poitier didn't leave the nation or even the state of New York, and he was assigned to help psychiatric patients at a VA hospital in Northport. Eventually, he feigned mental illness himself and obtained a discharge.
Career: After returning back to civilian life, Sidney took another job as a dishwasher. However, he also began to audition for various theatre roles, eventually becoming involved with the American Negro Theater. However, his initial stage performances were far from successful. He couldn't sing, and he still had a noticeable Bahamian accent. Determined to succeed, he spent the next six months refining his acting abilities. This resulted in a much more successful performance as the leading man in a Broadway production of "Lysistrata."
On the heels of this success, Sidney continued to book numerous leading roles in Broadway productions. By the late 40s, he was also receiving offers to appear in films like "No Way Out." This film helped him kickstart his movie career, and he subsequently veered more towards film projects. By 1955, he had made his true Hollywood breakthrough in "Blackboard Jungle."
He then followed up with roles in films like "Good-bye, My Lady" and "The Defiant Ones." The latter role earned him critical praise, and the film proved to be a commercial success. Poitier was nominated for an Academy Award. Sidney continued to appear in Broadway productions during this period, including the first production of "A Raisin in the Sun." The production was said to have changed American theater forever, and it represented a major step forward in the representation of Black culture on Broadway. He also found time to appear in films like "Porgy and Bess" during this period, receiving a Golden Globe nomination in the process. Poitier then appeared in the film adaptation of "A Raisin in the Sun."
In 1963, Sidney made history by becoming the first black man ever to win an Academy Award. The award came after his appearance in "Lilies of the Field." Despite these honors, Poitier expressed concerns that he was viewed as a "token" in Hollywood, and he remained the only major black actor on the scene at the time. Because of this, he was offered mostly similar roles. These concerns caused Sidney to step back from the movie world for a brief time.
In 1964, he switched gears and focused instead on music. That year, he recorded an album with composer Fred Katz called "Poitier Meets Plato," which involved Sidney reciting many of Plato's writings. Over the next few years, he returned to film with appearances in movies like "The Bedford Incident," "The Greatest Story Ever Told," and "A Patch of Blue." By the late 60s, he had reached the peak of his career, starring in blockbusters like "To Sir, With Love," "In the Heat of the Night," and "Guess Who's Coming to Dinner."
At this point, he was facing widespread criticism for portraying mostly stereotypical black characters with no real personality or conflicts. He typically played soft-spoken individuals who "didn't make any trouble." Over the next few decades, he appeared in a variety of additional films, but he also tried his hand at directing with films like 1980's "Stir Crazy." He also directed films like "A Warm December," "Uptown Saturday Night," and "Buck and the Preacher." Towards the 2000s, Poitier had mostly stepped away from the entertainment world, although he was still a regular fixture at the Academy Awards.
Personal Life: Sydney was married to Juanita Hardy from 1950 until 1965. They had four daughters together. He has been married to Joanna Shimkus since 1976. They have two daughters together.
Real Estate: Sydney's longtime home is a house in Beverly Hills, California that is worth $7-10 million today.