Martin Freeman Net Worth
Product information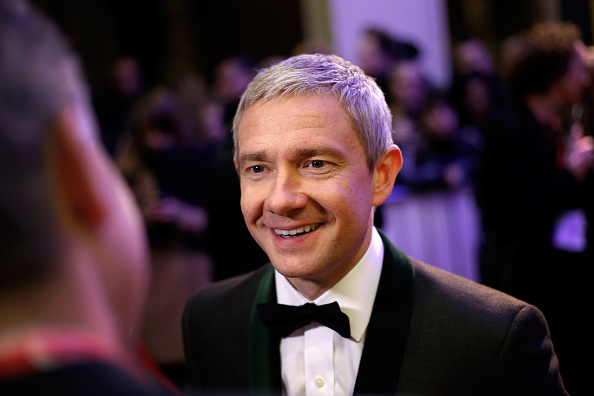 Martin Freeman Net Worth: Martin Freeman is a British actor known for his roles on television and film who has a net worth of $20 million. Although Freeman is probably best known for his role in the series "The Office," he has since branched out with a number of additional roles in both film and television projects.
Today, he is notorious for appearing in the series "Sherlock" as well as "The Hobbit" film trilogy. Martin Freeman is also a notable presence in the Marvel Cinematic Universe, and he has appeared in films such as "Captain America: Civil War" and "Black Panther." He may have had his start in the world of British television, but Martin Freeman is one of the most easily recognizable figures in today's global entertainment industry.
Early Life: Martin John Christopher Freeman was born on September 8th of 1971 in Aldershot, Hampshire. Raised alongside four older siblings, Martin's father passed away from a heart attack when he was 10. After graduating from secondary school, Freeman attended Brooklands College and studied media. Following this, he enrolled at the Central School of Speech and Drama.
Career: In 2001, Freeman had a major breakthrough when he booked the role of Tim Canterbury in the series "The Office." Although this instantly made him a well-known figure across the UK (and to some extent, around the world), it also made it difficult for him to move on with his career. According to Martin, the role was somewhat of a hindrance, especially as he tried to progress into more dramatic film and TV projects.
After appearing in "The Office," Freeman booked roles in series like "Hardware" and films such as "Ali G Indahouse" and "Love Actually." His first real dramatic role came in 2003 when he played the role of Lord Shaftesbury in the television film "Charles II: The Power and The Passion." Further television roles came with projects like "This Life," "The Robinsons," and "Black Books." Towards the end of the 2000s, Martin was appearing in films like "The All Together" and the miniseries "Boy Meets Girl."
During this period, Freeman also began a notable string of collaborations with his close friend Simon Pegg and Edgar Wright. He first appeared in the film "Shaun of the Dead" before making a cameo in "Hot Fuzz." Martin played a much more substantial role in "The World's End," a film that rounded out the so-called "Three Flavours Cornetto trilogy."
Another major step forward for Freeman came in 2010 when he booked the role of Doctor John Watson in the series "Sherlock." Benedict Cumberbatch played the title role, and the series won high praise from critics and a number of awards. Freeman was singled out for praise, winning a BAFTA and a Primetime Emmy Award for Outstanding Supporting Actor in a Miniseries or a Movie. "Sherlock" was also viewed by millions of people throughout the years.
While Freeman was earning praise for his performances in "Sherlock," he was also advancing his film career. In 2012, he booked the title role in "The Hobbit: An Unexpected Journey," playing Bilbo Baggins in Peter Jackson's first installment of a new trilogy set in Middle Earth. Two sequels would follow in 2013 and 2014, and together the films grossed $2.935 billion at the box office. Despite the fact that critics considered the films inferior to the "Lord of the Rings" film trilogy, they were incredibly successful on a financial level. In recognition of his performance in the first film, Martin won Best Hero at the 2013 MTV Movie Awards.
After the last film in "The Hobbit" trilogy, Freeman immediately accepted a role in the series "Fargo," playing the insurance salesman Lester Nygaard. This earned him a Golden Globe Award and an Emmy Award nomination, among other honors. Following this, Martin transitioned to theatre and played the lead role in a West End production of "Richard III." After booking another well-received role in the television film "The Eichmann Show," Freeman's career advanced once again after he appeared as CIA Agent Everett K. Ross in "Captain America: Civil War." The film was a box office juggernaut, grossing $1.153 billion and receiving strong reviews in the process.
After starring in the Netflix film "Cargo," Freeman appeared in another West End play called "Labour of Love." In 2018, Martin returned to the Marvel Cinematic Universe once again with "Black Panther," reprising his earlier role as Everett K. Ross. This film fared even better than "Civil War" at the box office, grossing $1.347 billion and earning widespread praise from critics. In 2020, Freeman joined the cast of the series "Breeders."
Brand Endorsements: Freeman has supplemented his acting income with a number of brand endorsement deals. He has been the face of Vodafone for a number of years, and has appeared in various commercials for the mobile phone company.
Relationships: From 2000 to 2016, Martin Freeman was in a long-term relationship with actress Amanda Abbington. Over the course of their relationship, they had two children together before separating.
Real Estate: In 2019, it was reported that Martin Freeman had purchased a home in North-West London for 5 million pounds. The purchase came soon after his split with Amanda Abbington, and it was quite the acquisition. Featuring five bedrooms, a wine cellar, and landscaped gardens, the home is located not far from the residence of Benedict Cumberbatch, Freeman's former co-star on "Sherlock." Prior to living in this new home, Martin lived with Abbington and their two children in a 1.4-million-pound Hertfordshire property.