Beth Chapman Net Worth
Product information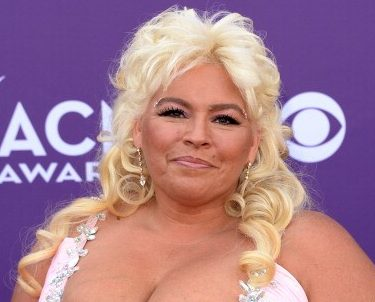 What was Beth Chapman's net worth and salary?
Beth Chapman was an American reality television personality who had a net worth of $3 million at the time of her death in 2019. Beth Chapman was well known for being the wife of Duane "Dog the Bounty Hunter" Chapman.
Duane "Dog the Bounty Hunter" Chapman
Early Life
She was born Alice Elizabeth ("Beth") Smith on October 29, 1967 in Denver Colorado. She was one of five children born to Brach's Candies salesman Garry L. Smith. Chapman spent her childhood training as an ice skater and a gymnast. As a young adult, she worked as a stripper at a nightclub as well as a waitress.
Personal Life and Career
Beth met Duane "Dog" the Bounty Hunter Chapman when she was 19 and the two had an on and off relationship. Beth moved from Colorado to Honolulu to be with Dog. They joined forces in 1995 and Beth ran the bail bonds office. Beth and Dog got married in 2006. Beth was his fifth wife. The day before their wedding, Dog's daughter from another marriage, Barbara Katie, died in a tragic automobile accident in Fairbanks, Alaska. Beth and Dog had four children together: Bonnie, Cecily, Garry, and Dominic Chapman. In total, Dog has 13 children across different relationships.
Beth co-starred alongside her husband Dog in the reality television series Dog the Bounty Hunter for eight seasons, from 2003 to 2012, and Dog and Beth: On the Hunt in 2013. Chapman was also the executive producer of the series Dog and Beth: On the Hunt in 2013. She became a licensed bail bondsman at 29 years old, making her the youngest in Colorado history to do so until her step-daughter Lyssa became licensed at the age of 19. Beth was the acting president of the Hawaii Bail Bonds Association and a registered lobbyist. Chapman's final series was "Dog's Most Wanted," which was being produced at the time of her death in 2019. The show ran on WGN America from September 4 to November 6, 2019. The show features a mostly retired from bounty hunting Dog looking for fugitives of his own choosing. It also features Beth getting the news that she had terminal cancer as well as her battle with it.
Illness and Death
Chapman was diagnosed with stage two throat cancer in September 2017. The cancer initially went into remission but the disease later spread to her lungs. On June 22 2019, during production of "Dog's Most Wanted," Beth collapsed and was hospitalized at The Queen's Medical Center in Honolulu, Hawaii. She was put into a medically induced coma. With no chance of recovery, Dog and his family had to make the decision to remove her from life support. She survived off life support for several hours longer than expected and Dog briefly left the hospital. He was unable to return in time to say his final goodbyes, tragically, and Beth died on June 26, 2019. The final episode of "Dog's Most Wanted" shows footage from her memorial services in Colorado and Hawaii, as well as her ashes being scattered at sea. She was 52 years old.