John Cena Net Worth
Product information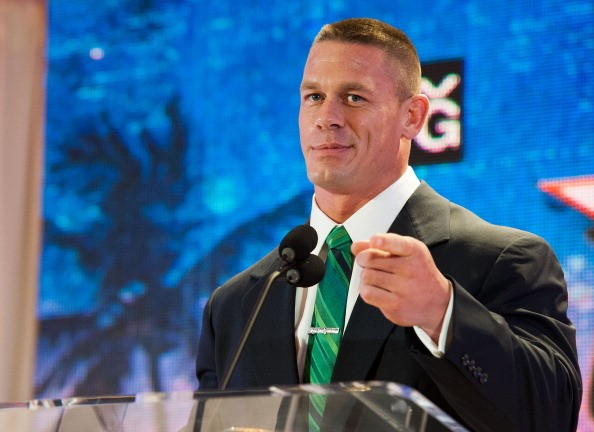 John Cena Net Worth: John Cena is an American professional wrestler, bodybuilder, rapper, and actor who has a net worth of $60 million. John Cena first became famous as a WWE professional wrestler. He has since transitioned to an A-list actor and television presenter. He is also the current host of Are You Smarter Than a Fifth Grader? on Nickelodeon and has starred in various films.
Early Life: John Felix Anthony Cena Jr. was born on April 23, 1977, in West Newbury, Massachusetts. Cena is one of five boys (Stephen, John, Dan, Matt, and Sean) of John and Carol Cena. He graduated from high school from the private prep boarding school Cushing Academy and enrolled at Springfield College in Massachusetts, where he was on the football team. He graduated from college in 1998 with a degree in exercise physiology. Cena pursued a career in bodybuilding and worked as a limo driver to make ends meet.
Career: In 1999, Cena enrolled in Rick Bassman's California-based Ultimate Pro-Wrestling (UPW) academy. He was the UPW Heavyweight Champion in April 2000. Cena made his WWF debut in October 2000 in a SmackDown match that he lost. The WWF gave Cena another chance at a SmackDown taping in January 2001, this time Cena won and signed a developmental contract with the WWF. Cena was assigned to the Ohio Valley Wrestling division of the WWF. In 2001, Cena tried out for the main WWF roster four times. This continued into 2002. He became a fan favorite for his rapping and trash-talking. In 2004, Cena won the WWE Championship. Over the next 10 years, Cena became the face of WWE. As of this writing, Cena has closed out WWE's franchise event WrestleMania a record five times. He is a 16-time world champion, five-time US champion, and four-time world tag team champion.
Cena has been named as the greatest professional wrestler of all time by peers Kurt Angle and John "Bradshaw" Layfield, as well as by veteran industry personality Paul Heyman.
Acting Career: John began pursuing an acting career almost immediately after signing with WWE. In 2000 he appeared in the film "Ready to Rumble." In 2006 he starred in "The Marine," which grossed $30 million on a $15 million budget. He continued appearing in movies over the next decade. By 2018 he had grown into a box office star. Other notable films include 2015's "Trainwreck," 2017's "Daddy's Home 2," 2018's "Blockers," and 2019's "Playing with Fire." In 2020, he voiced the polar bear Yoshi in "Dolittle."
Personal Life: John was married to Elizabeth Huberdeau from 2009 to 2012. Later that same year he began dating fellow WWE star Nikki Bella. He proposed to Nikki at WrestleMania 33 in 2017. Unfortunately, their relationship ended a year later, a month before their scheduled wedding.
Cena has said numerous times that he does not want to have children because he does not want to be an absentee parent while he is focused on his career and has undergone a vasectomy.
John Cena collects rare and custom-made cars. He owns over 20 cars — everything from a vintage Oldsmobile Cutlass Rallye 350 to a 2006 Rolls Royce Phantom.
Cena has granted over 500 wishes for children with life-threatening illnesses through the Make-A-Wish Foundation, the most in Make-A-Wish history.
From late 2011 until WrestleMania XXVIII, Cena wore a black "Rise Above Hate" T-shirt promoting WWE's "Be a Star" anti-bullying campaign. In September and October 2012, Cena wore pink and black with the phrase "Rise Above Cancer" in partnership with Susan G. Komen for the Cure as part of Breast Cancer Awareness Month.
In November 2016, Cena appeared in a public service announcement, "We Are America," sponsored by the Ad Council as part of its "Love Has No Labels" campaign.
Real Estate: John lives in the private, gated community of Nature's Reserve in Land O' Lakes, Florida, roughly 20 miles north of Tampa. He paid $525,000 for the 3,704 square foot home in January 2005. The house has undergone several renovations since he purchased it.
Cena also owns a home in the Mission Hills area of San Diego. The colonial-style house features an infinity-edge swimming pool, hot tub, a full outdoor kitchen area, and a fireplace inside a gazebo with cozy outdoor seating in the backyard.