Pete Sampras Net Worth
Product information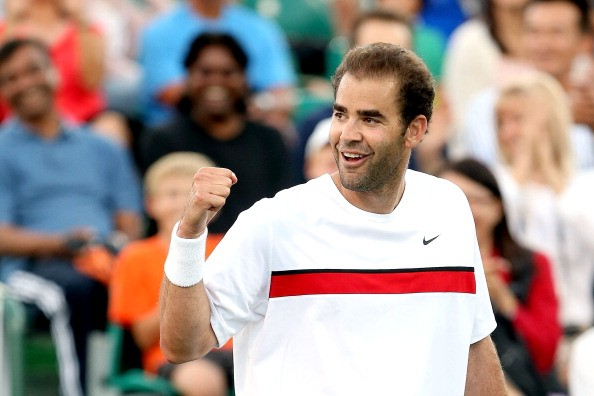 Pete Sampras Net Worth and Career Earnings: Pete Sampras is a retired American tennis player who has a net worth of $150 million. His career spanned many years, and he became one of the most successful tennis players of all time. He finished his career with a number one world ranking and 14 Grand Slam singles titles to his name. Sampras was nicknamed "Pistol Pete" due to his precise and powerful one-handed backhand. In 2007, Sampras was inducted into the International Tennis Hall of Fame.
Early Life: Petros Sampras was born on August 12th of 1971 in Washington, D.C. Raised by Greek parents in a Greek Orthodox household, Sampras first started playing tennis when he found a racket lying around in his basement at the age of three. He immediately spent hours hitting a tennis ball against a wall. After moving with his family to California, Pete began to train throughout the year. Between the age of 7 and 11, Sampras' potential was quickly noticed.
As a teen, Sampras trained with coach Robert Lansdorp, developing the forehand technique that he would use throughout the rest of his career. He then started training with Dr. Peter Fischer, a pediatrician and a tennis enthusiast. Fischer helped Sampras develop his trademark single-handed backhand.
Career: In 1988, Pete Sampras was ready to go professional at the age of 16. Within a year, he had moved up from 893 in the world rankings to 97. That year, he defeated several top-ranked tennis players. Just one year later, Sampras won a Grand Slam singles title at the French Open. At the age of 19, Pete followed up with his first major title at the US Open. He defeated Andre Agassi to become the youngest ever single champion to accomplish the feat.
In 1991, he won his first career titles at the Tennis Masters Cup. He would win four more throughout his career. He then drew criticism by suggesting that he was "relieved" after losing at the quarterfinals of the US Open that year. The following year, he won the Davis Cup with John McEnroe in the US doubles team. By 1993, Pete Sampras had achieved the number-one world ranking for the first time in his career. Some observers lamented this fact, given the fact that it had been a few years since Sampras had won a Grand Slam title. He silenced these critics by winning his first title at Wimbledon three months after gaining the top spot. Sampras then followed up with a win at the US Open.
In 1994, Pete won the Australian Open and another Wimbledon title. By 1995, Sampras was battling with Andre Agassi for the number-one ranking. That year, he broke down into tears in the middle of a match at the Australian Open, as his coach had just collapsed from a brain tumor. During the 1996 US Open, he vomited on the court due to dehydration but still managed to win the match. He went on to win the US Open.
In 1997, Sampras won the Australian Open and another Wimbledon title. In 1998, he followed up with yet another Wimbledon title. In 1999, he lost his number-one ranking to Andre Agassi despite beating him in the Wimbledon final. The match has been described as one of the best-ever finals. By 2000, he had returned to the top spot but lost to Agassi in the Australian Open that year. Despite injuries, he also won another title at Wimbledon. This would prove to be his last.
In 2001, Sampras' form began to dip. He won no titles that year – the first time in 12 years he had failed to win anything. He finished the year with a world ranking of tenth. In 2002, he retired after beating his old nemesis Andre Agassi in his final match, winning his last US Open title.
Style of Play: Sampras was a tennis player with relatively few weaknesses. He was known as an "all-court player," having the ability to serve and volley with great versatility. An aggressive player, Sampras' style of play often involved following chips and shots straight to the net. His serve was both powerful and accurate, and many observers consider it to be one of the best of all time. Perhaps Sampras' most distinguishing quality was his backhand. It didn't really matter where Sampras was on the court or how he was hitting the ball, he was still able to score points.
Relationships: In 2000, Pete Sampras married Bridgette Wilson, an actress and former Miss Teen USA. Two years later, they had their first child, and in 2005 they welcomed a second child into the world. The family lives in California.
Career Earnings: During his tennis career, Pete Sampras earned $43 million. In today's money, this is the equivalent of about $75 million. He also earned at least $100 million from endorsements and special appearances.
Real Estate: Pete Sampras has an extensive real estate portfolio, and has purchased a multitude of homes in the Los Angeles area over the years. For many years, Pete and his wife lived in an extensive estate in Bel-Air. They purchased one home before attempting to sell it years later for $25 million. They eventually lowered the price, selling for just under $17 million. In 2009, Sampras and his wife purchased a property in Brentwood for $5.6 million. In 2016, Sampras put this property on the market for $8.9 million.
Next year, they attempted to sell a custom-built home that they had lived in for many years. The couple put a $25 million price tag on the 20-acre property. Six months later, the couple ostensibly came to their senses, lowering the asking price significantly and eventually agreeing upon a sum of $13.56 million. In 2014, the couple spent about $5.9 million on a new property in Bel-Air. Also in 2014, it was reported that Pete Sampras had purchased a second property in Bel Air, California for just over $3.5 million. This second property was adjacent to the house they had already purchased. In 2017, it was reported that Pete had sold a property in Los Angeles for $7.25 million.