John McEnroe Net Worth
Product information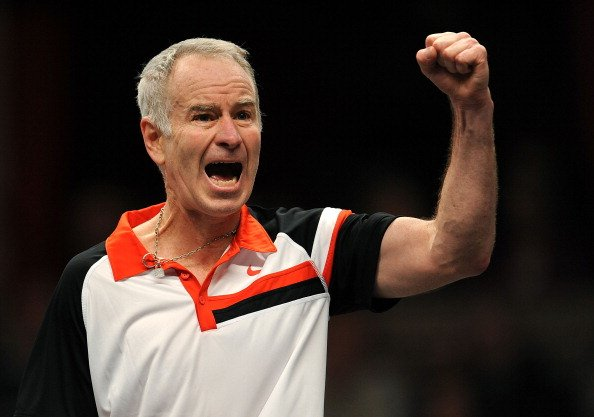 John McEnroe Net Worth: John McEnroe is a former American World No. 1 professional tennis player who has a net worth of $100 million. McEnroe is known for his superb technique, unprecedented number of wins, and his on-court temper, which often got him into trouble with tennis authorities. He has won 77 singles titles and 78 doubles titles, including 7 Grand Slam Singles titles and 9 Grand Slam men's doubles titles. Often rated among the greatest tennis players of all time, McEnroe is also a former Captain of the United States Davis Cup team. Since his retirement, John has served as a television commentator, game show host, and a talk show host.
Early Life: John McEnroe was born John Patrick McEnroe, Jr. on February 16, 1959, in Wiesbaden, West Germany. His parents, John and Kay, were both American, and they were living in Germany while his father was stationed there for his job with the U.S. Air Force. When McEnroe was a baby, the family moved to Newburgh, New York's Stewart Air Force Base, and they relocated to Flushing, Queens, in 1961 and Douglaston in 1963. John's father later left the Air Force and worked as an advertising agent during the day and studied at Fordham Law School at night. John's brothers Mark and Patrick were born in 1964 and 1966, respectively, and Patrick also grew up to be professional tennis player. McEnroe began playing tennis at the age of 8, and the following year, he enrolled in the Eastern Lawn Tennis Association and was soon competing in regional tournaments. Ranked #7 in his age group at 12 years old, he joined the Port Washington Tennis Academy. John graduated from NYC's Trinity School in 1977.
Career: John joined the ATP tour in 1978 and finished the year as the #4 ranked player after winning 5 titles. The following year, he won 10 singles titles and 17 doubles titles, including the Wimbledon Doubles title and the men's singles US Open title. In 1980, McEnroe defeated Björn Borg at the US Open, two months after losing to him at the Wimbledon Men's Singles final. In 1981, he became known for shouting "you cannot be serious" at umpires, and the phrase became the title of his 2002 memoir. That year, he defeated Borg at Wimbledon and the US Open, and the Associated Press named him Athlete of the Year. John was 1984's #1 player, though he was not able to compete in London's Wembley Indoor tournament due to a 3-week suspension resulting from an angry outburst at a tournament in Stockholm. In 1986, McEnroe decided to take a 6-month break from competing, and he won 3 ATP tournaments after his return. However, the following year, he didn't win any titles and took another break after being suspended at the US Open.
In 1989, John won the World Championship Tennis Finals for the fifth time and was also victorious in the RCA Championships. He was ejected from the 1990 Australian Open for swearing at tournament officials and was eventually disqualified after a few more incidents. McEnroe won the Volvo Tennis-Chicago tournament in 1991 after defeating his brother. In 1992, he won his fifth Wimbledon men's doubles title with the help of partner of Michael Stich and won the doubles rubber in the Davis Cup with Pete Sampras. McEnroe announced his retirement from the ATP Tour in 1992, but he played in a singles tournament for them in 1994 and two doubles tournaments in 2006; he also regularly takes part in the ATP Champions Tour. After retirement, John focused on music, touring with his band (The Johnny Smyth Band) for two years; he quit the band in 1997 in the midst of recording an album. He has also served as a commentator at Wimbledon, the US Open, the Australian Open, and several smaller ATP tournaments.
Television and Film Appearances: McEnroe narrates the 2020 Netflix series "Never Have I Ever," and he has guest-starred on several TV shows, including "Frasier," "Curb Your Enthusiasm," "30 Rock," and "Saturday Night Live." He also appeared in the Adam Sandler films "Mr. Deeds," "Anger Management," "You Don't Mess with the Zohan," and "Jack and Jill." John hosted ABC game show "The Chair" in 2002 and CNBC talk show "McEnroe" in 2004.
Personal Life: John married actress Tatum O'Neal in 1986, and they had 2 sons, Kevin and Sean, and a daughter, Emily, before divorcing in 1994. The former couple originally shared joint custody of the children, but McEnroe was awarded sole custody in 1998 due to O'Neal's drug abuse. John went on to marry singer Patty Smyth in 1997, and they have 2 daughters together: Anna (born in December 1995) and Ava (born in March 1999).
Tatum O'Neal
Patty Smyth
Awards and Honors: In 1999, McEnroe was inducted into the International Tennis Hall of Fame, and in 2007, the International Tennis Federation (ITF) presented him with the Philippe Chatrier Award. He was named ITF World Champion in 1981, 1983, and 1984, and the Association of Tennis Professionals (ATP) named him Most Improved Player in 1978 and Player of the Year in 1981, 1983, and 1984. John was named the World Number 1 Male Player of the Year in 1984, and he received the Davis Cup Commitment Award in 2014. He was also nominated for Sports Emmy Awards for Outstanding Sports Personality – Sports Event Analyst in 1999, 2000, and 2002, and in 2018, the Critics' Choice Documentary Awards honored him with the Most Compelling Living Subject of a Documentary award for "L'empire de la perfection" ("In the Realm of Perfection").
Real Estate: John and Patty own several valuable homes in Malibu. In 2013, they bought a ranch-style home for $3.35 million, and in 2015, they paid $21 million for an oceanfront home in Malibu's exclusive Paradise Cove. McEnroe and Smyth own around $50 million worth of real estate in Los Angeles, and John previously owned Johnny Carson's Malibu home on Carbon Beach. In 1999, they spent $4.2 million on a two-acre estate in Southhampton, New York, and John has owned a Manhattan art gallery since 1993.