Lee Trevino Net Worth
Product information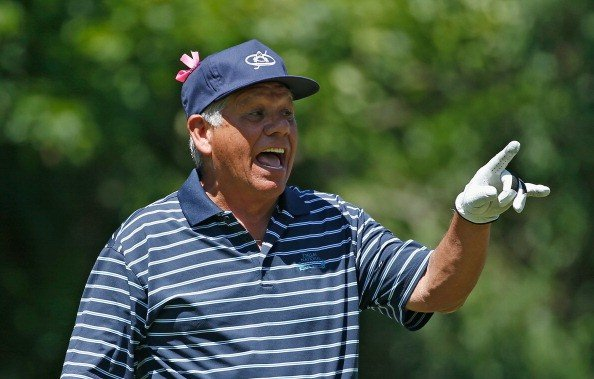 Lee Trevino Net Worth: Lee Trevino is a Mexican American professional golfer who has a net worth of $50 million. Lee Trevino is considered one of the greatest players in the sport's history. Across the course of his career, he won six major championships and 29 PGA Tour events, with 92 professional wins overall. Trevino is one of only four players to twice win the Open Championship, the US Open, and the PGA Championship.
Many non-golf fans will recognize Trevino from his roll in Adam Sandler's movie Happy Gilmore, as the head shaking guy.
Adam Sandler's
Career Earnings: During his PGA career, Lee Trevino earned $9.9 million in tournament winnings. As of this writing that's in the top 30 of all-time career earnings totals. More importantly, he earned tens of millions of dollars from endorsements.
Early Life and Career Beginnings: Lee Trevino was born in 1939 in Garland, Texas to a family of Mexican descent. His father, Joseph, left the family early on, leaving Trevino to be raised by his mother Juanita and his grandfather Joe. At only five years of age, he began working in the cotton fields. His introduction to golf came when his uncle gifted him with an old golf club and a few balls; he subsequently spent his free time sneaking into local country clubs to practice. Soon, he became a caddie at the Dallas Athletic Club, and dropped out of school when he was 14 to work full-time. In 1956, Trevino enlisted in the US Marine Corps, with which he served four years as a machine gunner. During this time, he played in Armed Forces golf events in Asia.
Professional Career: Following his discharge from the Marines in 1960, Trevino worked as a club professional in El Paso, Texas. In 1966, he qualified for the first time for the US Open, tying for 54th. He qualified again the next year, finishing fifth, and was subsequently named Rookie of the Year by Golf Digest. In only his second year on the circuit in 1968, Trevino won the US Open at Oak Hill Country Club in Rochester, New York. A major run of victories followed in the early 70s, when Jack Nicklaus was his main rival. In the summer of 1971, Trevino defeated Nicklaus to once again win the US Open. Two weeks later, he won his first of three Canadian Opens, and just one week after that, he won the Open Championship. As a result, Trevino became the first player ever to win those three titles in a single year. He was awarded the Hickok Belt as the top professional athlete of 1971.
In 1972, Trevino became the first player to defend an Open Championship title since Arnold Palmer in 1962. Two years later, he won the Greater New Orleans Open while achieving the rare feat of not scoring any bogeys, something that would not be accomplished again until 2019. During the 1974 PGA Championship, he won the fifth of his six major championships. In 1975, at the Western Open, Trevino was struck by lightning, suffering spinal injuries. Despite some back problems, he racked up three PGA Tour wins in 1980, and finished in second to Tom Watson in the Open Championship. In 1984, he won his sixth and final major at the PGA Championship with a score of 273. The following year, he was the runner-up at the same event.
International Play: Trevino played a substantial number of games overseas throughout his career. Early on, he played sporadically on the Australasian Tour, and twice finished as the runner-up in the Dunlop International in Australia. Later on, he won two regular European Tour events: the 1978 Benson & Hedges International Open and the 1985 Dunhill British Masters. He also finished runner-up at the Bob Hope British Classic in 1980.
Masters Tournament: At the age of 49 in 1989, Trevino opened his Masters Tournament play with a bogey-free five-under-par 67, becoming the oldest player to lead the field after a tournament round. Ultimately, he tied for 18th, eight spots below his career best results at the Masters in 1975 and 1985.
Sense of Humor: During his professional career, Trevino became known for his joking behavior and witty remarks. In the 1971 US Open playoff against Nicklaus, he chucked a rubber snake at his rival. Later, Trevino made a humorous cameo appearance as himself in the 1996 Adam Sandler comedy film "Happy Gilmore."
Honors and Awards: Other than Tiger Woods, Trevino is the only golfer to win the PGA Tour's Open Championship, US Open, and Canadian Open in the same year, a hat-trick he accomplished in 1971. Among his accolades, he won the Vardon Trophy for lowest-scoring average five times, in 1970, 1971, 1972, 1974, and 1980. In 1981, Trevino was inducted into the World Golf Hall of Fame. Later, in 2000, Golf Digest magazine ranked him as the 14th greatest golfer in history.
Personal Life and Real Estate: Trevino has been wed twice, with the first marriage being to Claudia Fenley. In 1983, he married Claudia Bove. Trevino has six children.
In 1996, Trevino and Bove purchased a mansion in the prestigious Preston Hollow neighborhood of Dallas. Located on five acres, the four-bedroom, seven-bathroom estate was built in 1939, and was completely remodeled by the couple before their move-in in 1999. It comprised a main house with the four bedrooms, as well as a game room, music room, sun room, study, and a separate guest suite. Outside, landscaped space included a private creek, a stone bridge, a pool, a tennis court, a cabana, and putting greens. In 2014, Trevino and Bove put the home on the market for $13 million; in 2018, they slashed the price to $7.5 million. It was finally purchased in 2019, with the new owners razing the property. Here's how the mansion looked when Trevino was the owner: