Amir Khan Net Worth
Product information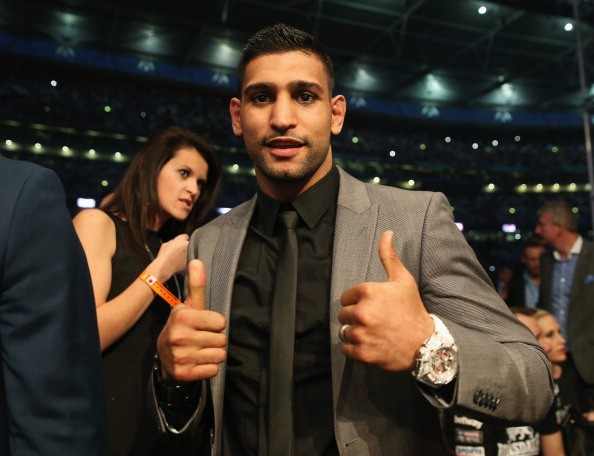 Amir Khan net worth: Amir Khan is a British professional boxer who has a net worth of $40 million dollars. He is one of the highest-paid British boxers in history, earning tens of millions for a single fight when Pay Per View and other sources are collected.
Early Life: Born in Bolton, England, Amir Khan is a descendant of the Janjua Ranjput, a royal warrior clan in Pakistan, his family's homeland. He graduated from Bolton Community College and is part of an athletic family. He focuses on boxing, but is also an accomplished athlete in cricket, football, and basketball. He began boxing competitively while in elementary school, winning multiple honors by age 11, including Gold at the 2003 Junior Olympics and multiple Junior ABA titles. He went on to represent Britain in the 2004 Summer Olympics and won the Silver medal.
Turning Pro: In 2008, he began his professional career by defeating Martin Kristjansen for the Commonwealth Lightweight title. After winning a few more bouts he sacked his longtime trainer, Oliver Harrison. He then began training with Jorge Rubio, but the combination was not a good one. Eventually, he began working with Freddie Roach and found his stride again. He has continued to win professional bouts throughout his career and his per-fight earnings have sky rocketed. In May 2016, Amir earned $13 million fighting Saul Alvarez.
Other Boxer's net worths:
Floyd Mayweather Makes $40 Million in one Night
Manny Pacquiao Net Worth
Freddie Roach Net Worth
Floyd Mayweather Makes $40 Million in one Night
Manny Pacquiao Net Worth
Freddie Roach Net Worth
Floyd Mayweather Makes $40 Million in one Night
Manny Pacquiao Net Worth
Freddie Roach Net Worth