Mookie Betts Net Worth
Product information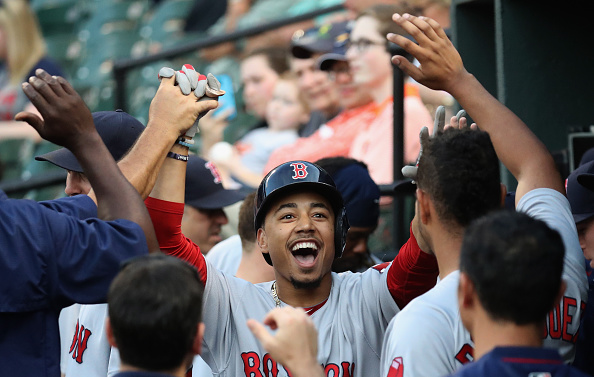 Mookie Betts net worth and salary: Mookie Betts is an American professional baseball player who has a net worth of $50 million. After joining Major League Baseball in 2015, he has played for the Boston Red Sox and Los Angeles Dodgers. In July 2020 he signed the second-largest baseball contract in MLB history. A $390 million 12-year deal. The deal came with a $65 million signing bonus.
Mookie Betts was born in Brentwood, Tennessee in October 1992. He is a right fielder who bats and throws right handed. Betts was a standard baseball and basketball star at John Overton High School and signed with the University of Tennessee before being drafted by the Boston Red Sox in the fifth round of the 2011 Major League Baseball Draft. Betts played in the minor leagues before making his MLB debut for the Red Sox in 2014 and playing for them ever since. In 2016 he was selected as a MLB All-Star. On October 28, 2018, Mookie and the Red Sox beat the Dodgers to win the World Series. He was traded to the Dodgers ahead of the 2020 season.
Contracts and Earnings: In 2017 Betts signed a one-year $750 thousand contract with the Boston Red Sox. In 2018 he signed a one-year $10.5 million contract with the Red Sox. He then signed a one-year $20 million deal to stay with the Sox before jumping to the Dodgers with a two-year $60 million contract.
On July 22, 2020, with one year left on his Dodger deal, Mookie signed a 12-year contract extension with the team. The $390 million deal came with a mind-blowing $65 million signing bonus. When combined with the $27 million he was still owed from his original two-year deal, Mookie's total contract value is close to $420 million. He will make $3 million from his contract… every 16 games. After adjusting for inflation, that's more than fellow Dodger Jackie Robinson made in his ENTIRE CAREER. Mookie has reportedly kept his Tennessee residence throughout his career which means he will likely pay no state income taxes on his earnings. As a result he'll likely save north of $40 million over the lifetime of the contract.
Real Estate: In November 2020 Mookie paid $7.6 million for a home in Encino, California. Football coach Chip Kelly and his wife Jill Cohen were the sellers, having paid $7 million just two years prior.
Chip Kelly
Chip Kelly