Adam DeVine Net Worth
Product information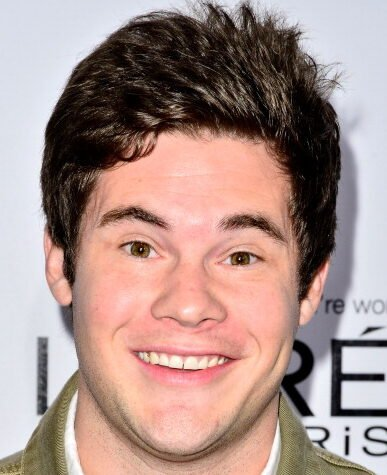 Adam DeVine Net Worth: Adam DeVine is an American comedian, actor, writer, and producer who has a net worth of $8 million dollars. After co-creating and starring in the Comedy Central series Workaholics, DeVine's profile has steadily grown through regular appearances on Modern Family as well as one of the leading roles on HBO's The Righteous Gemstones.
Early Life: Adam DeVine was born in Waterloo, Iowa on November 7th, 1983. After spending most of his childhood and adolescence in Omaha, Nebraska. When he was 11 years old, DeVine was seriously injured by a cement truck when he was riding his bicycle. He fell into a coma and had to go through 26 surgeries over the course of several years, many of which he spent in a wheelchair. DeVine went on to attend Orange Coast College, where he first met future Workaholics co-star Blake Anderson. He studied theater at the American Conservatory Theater in San Francisco, and then relocated to Los Angeles to focus on a performance career full-time.
Comedy Career: DeVine first made a name for himself as part of the comedy group, Mail Order Comedy along with Anderson, Anders Holm, and Kyle Newacheck. Launched in 2006, Mail Order Comedy's sketch comedy work became popular on MySpace and YouTube, and in 2008 the group made their television debut on G4's Attack of the Show, which featured their music video for their song "Wizards Never Die." The following year, the group expanded on their work as "The Wizards" with Purple Magic, a full-length concept album recorded in character as their wizard-themed band. His work with the group continued to lead to other acting work, and together with his Mai Order Comedy cohorts he created Workaholics on Comedy Central in 2011. He has since appeared on such television shows as Special Delivery, 5th Year, Better Off Ted, Samantha Who?, Traffic Light, Community, Modern Family, Super Fun Night, and much more. He's also voiced characters on multiple animated shows, including TRON: Uprising and Uncle Grandpa. He and much of the rest of the cast of Workaholics made a cameo in a fourth season episode of Arrested Development in 2013, the show's first season since getting picked up by Netflix following its infamous cancellation on Fox.
In 2012, DeVine reached a new audience with a key supporting role in Pitch Perfect, a role he reprised in the film's first sequel. The following year, DeVine doubled up on Comedy Central series with his very own show, entitled Adam DeVine's House Party. The series, which blended the sitcom and stand-up comedy showcase formats, ran for three seasons, and in 2016 he reached feature film leading man status along with Zac Efron in the comedy Mike and Dave Need Wedding Dates. Then, in 2018, he starred in a romantic comedy called When We First Met, which he also co-wrote. That same year saw the release of Game Over, Man on Netflix, an action comedy that reunited him with his Workaholics crew and which was produced by Seth Rogen.
Then, in 2019, DeVine played one of the titular Gemstone family in The Righteous Gemstones, the HBO original series about a family of corrupt evangelical Christian ministers. Also in 2019 he appeared in Isn't It Romantic, a parody of romantic comedy tropes, along with Rebel Wilson (who also appeared in one episode of Workaholics and the Pitch Perfect movies with DeVine). In another animated project, he once again reunited with old friend Blake Anderson to create an adaptation of The Fabulous Furry Freak Brothers, the famous underground comic book series by Gilbert Shelton.
In 2020, DeVine played the role of Young Anthony Bourdain in Have a Good Trip: Adventures in Psychedelics, a documentary on Netflix that features celebrities telling stories about their adventures in the world of psychedelic substances, aided by reenactments. He's also one of the stars of Magic Camp, a Disney family comedy that was slated for theatrical release before the coronavirus led to its being released directly to the Disney+ streaming platform in August of 2020. In addition to DeVine, the film also stars Jeffrey Tambor and Gillian Jacobs.
Miscellaneous Work: Outside of his own Mail Order Comedy music videos, DeVine appeared in the official video for "She's Out of Her Mind" by Blink-182 in 2016, and "California Snow" by Weezer in 2019. In 2015 he did an episode of the reality cooking series Hell's Kitchen, hosted by Gordon Ramsay. Even as his star has risen, he's continued to be a prolific voice actor, lending his vocals to Steven Universe (on which he portrayed the character of "Pizza Steve" in one episode), the animated series Vampirina, and the animated Netflix children's show Green Eggs and Ham based on the classic children's book by Dr. Seuss and on which he plays the main role of Sam-I-Am. That wasn't his first time voicing a famous children's character: In 2016, DeVine voiced the character of Raphael in a Teenaged Mutant Ninja Turtles animated short entitled Don vs Raph. In September of 2019, it was announced that DeVine would be voicing the protagonist of the animated adventure comedy film Extinct, along with Rachel Bloom, Ken Jeong, Reggie Watts, and Jim Jeffries.
Personal Life: Partially a result of his childhood medical issues caused by his accident, DeVine has remained a lifelong supporter of Children's Miracle Network Hospitals. He's also a fixture on USO tours entertaining American troops stationed overseas. In 2014 he met actress Chloe Bridges on the set of The Final Girls, and they reportedly began dating the following year. In 2019, DeVine announced her engagement to Bridges.